Writing a blog is a great way of attracting readers, building up brand loyalty and getting much-needed links to your site. But writing content that's relevant and useful (and actually read) can be tricky and time-consuming. Luckily, our guest blogger, Hilary Pullen, explains how you can make your blog sizzle.
How do you get your blog discovered by your target readership?
How do you attract the right people (the people you have identified through careful market research) to your blog? Understanding the nuts and bolts of how to optimize a page for keywords is great, but researching what to write about in the first place can be much more tricky and time consuming than actually writing the post.
Your blog should be the interesting, chatty and dynamic part of your website, the area of your site that entertains and enthuses your audience to engage with you or share your content. It is a place to set the scene for your products and build up a brand identity. What you choose to share on your blog is crucial to the success of it as the hub of your social networking activity.
In this post I'll share a few of the ways I find and organize sources of inspiration for my blog writing.
How and where to find great content to share.
If you have a blog already you should have developed a clear profile of your target customer and reader. With a little research we can find these potential customers and hopefully make them feel very happy they found us in a wonderfully serendipitous way.
Getting organized with RSS
I use Google Reader to organize all the content sources I find on the internet. It's not just for blog feeds: most content on the web has an RSS. I even have niche Pinterest boards in my feeds. To manage your subscriptions click on Subscriptions in the lefthand column, then Manage Subscriptions, at the bottom of the dropdown menu that appears. You'll then be given lots of different options for arranging your feeds:

All the feeds I follow are neatly organized into folders, broken down by subject for my own blog posts and those of my clients. I do this as a matter of course - if I find content I like, I follow it and classify it immediately. If you just subscribe and don't classify you'll probably never get around to it. (If you're anything like me!)
Make a date to make over your existing feed reader until it is no longer a stream of 10,000 unread posts from blogs you have no idea why you are following : into a highly ordered way of finding the latest news to share across your social networks or write about on your blog. Regularly delete the feeds that are no longer relevant and search for new and interesting blogs and websites to subscribe to.
Your feed reader should feel like walking into a library with everything you want neatly classified, up to date and easy to find, not like an opportunistic trip to a junk sale where you wade through piles of old books in the shallow hope of finding a classic.
Learn how to use all the tools Google Reader has to offer, or use a different reader. I'd love to hear what you all use and what you think is better than my old favorite. The important thing is the organization and creation of folders so you can hone in on fresh new ideas and concepts in your field. However you read your feeds, make time to read them regularly. I research content at elevenses time whilst sitting in a comfy armchair with my tablet. That suits me perfectly!
Twitter lists
Another of my favorite tools for content inspiration and discovery of new blogs to subscribe to are Twitter lists. Create your own or follow other people's.
As with Google Reader, I like to neatly categorize people on Twitter so I can make the time I spend networking really focused - no distractions when your Twitter friends have posted!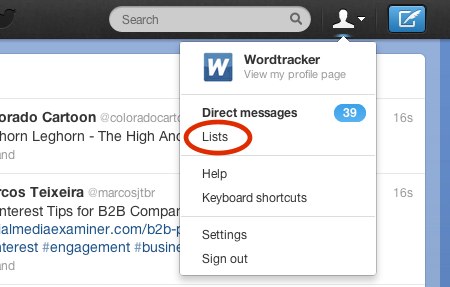 When I click on a list I can easily block out the noise of other tweets and concentrate on researching through niche Twitter accounts that I already know deliver great content and inspire me to write good posts.
Creating a Twitter list is easy. All you need to do is log in, click the profile drop-down menu in the top navigation bar, then click Lists.
Then you'll see 'Create list'. Click this, and they'll walk you through the process. Once a list is set up, you can click on any of the people you're following, and add them to any list you like. It's easy. (You can also add people without following them. You just need their name or Twitter username.)
When your Twitter account gets successful with lots of @replies it's easy to log in and focus solely on your @replies. All the other interesting tweets from influential bloggers and experts in your field may be passing you by. Having Twitter lists can really help to improve your productivity and networking.
Don't make one list, make 10 or 20! Really target the people you are planning to network with (retweets/comments), be inspired by them and learn from them. This really helps you to build up a relationship with specialists and influential Twitter users in your field.
The better your relationship with Twitter users the more likely they are to act on your shared links and perhaps one day guest post for you or invite you to post for them.
I always make a private Twitter list containing a brand's main competitors as it's extremely useful to quickly assess what the competition are talking about and to whom, without having to either search for them or follow them. What are they doing to draw customers to their blog content - are they doing it more successfully than you? If so, how so?
Communities and forums
Online communities and forums exist for almost everything you care to imagine and certainly all the things you would rather not! Forums are like hitting a gold mine for bloggers. Real people all gathering in one place, with real queries, and looking for answers!
By their nature, forums are usually made up of niche groups, they are full of juicy snippets and questions waiting to be turned into helpful blog content.
Find discussions and forums using Google's 'Discussions' filter (in the left sidebar of a Google search).

You can use targeted keywords to begin your search, but also think laterally about complementary topics to your product. For example a company selling power tools may think to look on DIY forums but should also look on garden and home design forums, where there will be people looking for inspiration for projects.
Once you have found forums and communities that fit your desired audience scan over the forum posts for ideas for content. Add these forums to your newly super-organized feed reader so you can check new posts all from one place - most have RSS feeds.
If someone is asking a question in a forum, another 100 are likely to be googling it. You can then use Wordtracker's Keywords tool to see what sort of search volume your post ideas will bring. You don't need to waste time networking on these forums, unless you can do so in an entirely non-spammy way: the backlinks won't help much. It's better to focus on great content and promoting that content within a really targeted social network.
Writing original content
Your post may be inspired by the questions and content you have found online, but you still need to be creative about writing it up.
Original content is important for your readers and helps you rank highly in search engines. If you are sharing some news found from an online source, ensure you write a few original paragraphs about it and credit the source. Adding credits is also a great way of networking - most people are flattered to be mentioned and have their ideas heralded as being newsworthy or worthy of a critique.
Research them well, add gorgeous images (make them Pinteresting!) and add a little personality to your posts. You need to write with sincerity and enthusiasm. It's this passion that takes a purely informative blog to the next level and gets people coming back for more.
Your love of your subject should have to be reigned in not forced out at gun point. Easy for me, as I write about beautiful creative stuff I love, in most cases, but you need to find the beauty in your own subject.
The goal for blog content is to engender trust and build up a loyalty to the brand in addition to building up numbers and being a good way to build up links. It's all very achievable if you research your content well, be realistic about the time you have to create posts and get your sources organized for instant hits of content inspiration the next time you sit at your desk and plan your blog posts.
Get a free 7-day trial
A subscription to Wordtracker's premium Keywords tool will help you to:
Generate thousands of relevant keywords to improve your organic and PPC search campaigns.
Optimize your website content by using the most popular keywords for your product and services.
Research online markets, find niche opportunities and exploit them before your competitors.
Take a free 7-day trial of Wordtracker's Keywords tool