After looking through feedback from people using our tools and working through what we could improve upon, the Quick Research Tool is now quicker, cleaner and easier to work with. Keyword lists load more quickly, filters work at lightning speed, and you can switch between data sources faster than before. You'll be able to spend less time on keyword research, and more time marketing your site.
Let's have a quick look at how the new tool works:
Searches
As before, you can find keywords easily by entering a word or short phrase into the search bar, and clicking the 'Search' button. We'll give you keywords based on this search term. We'll show Wordtracker keywords as default, but it's easy to switch to Google AdWords data if you prefer.

In the list that's returned, you'll see your keywords, their popularity ('Volume') and a measure of difficulty ('Competition') as well as KEI (Keyword Effectiveness Index). It is essentially the same information you're used to, but we're presenting keywords more quickly. You'll save time.
So how do I find good keywords?
A high KEI figure is 'a good thing'. It indicates that Volume is high - in relation to the Competition figure. A low KEI tells us that there is low Volume and high Competition, so the keyword's probably best avoided.
There's more information on the numbers you see at this support page.
The thing to be looking for in any keyword list from any keyword tool is keywords that have high search volume in relation to the rest of the list that you're looking at, and lower competition. These are the keywords that have potential. By testing them on your site - your analytics data will let you know how your implementation and changes are working for you - you'll get real traffic and conversion figures.

Filtering
Use the sliding filters on the left to exclude keywords based on their levels of Volume and Competition. You can show the keywords that have the most potential.
Sliding the 'Volume' slider to the right will hide keywords with lower search volume.
Sliding the 'Competition' slider to the left will hide those keywords that have lots of competition.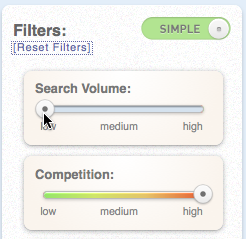 The idea is to show potential target keywords. There may be useful keywords outside the filters you set, so do play around with them a bit.
The sliders are a new feature - so please let us know how useful they are.
Include/exclude words
You can also refine your list by including or excluding words. Just type a word into the relevant box and the keyword list will update instantly. There's no limit on the number of words you can add to the boxes, but the more words you try to include or exclude, the fewer keywords you'll see in your list!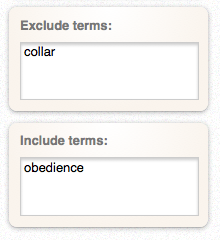 Create targets
Click the icons in the 'Targets' column to flag up keywords that are of interest.
You'll see a count of your target keywords on the left hand side.
Click 'Targets' to show the keywords you've targeted.
You can export your targets by choosing 'Export only visible' from the menu when you click the green Export button at the top of the list:

Keyword Question
The Quick Tool is great for generating content ideas.
Clicking 'Keyword Question' will filter the list to show you only those keywords that are questions.
These are often great ideas for blog posts and single-page content creation.
Find questions to answer, optimize your pages well and you'll attract traffic from other searchers with the same questions.

Choose your sources
If you want to see keywords from sources other than Wordtracker data, use the tabs over to the left: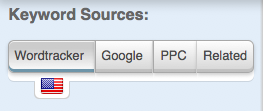 You can get keywords from Google (Google tab), with Google PPC competition figures (PPC tab), or related keywords for brainstorming and inspiration (Related tab).
You can choose which territory to get keywords from in the 'Advanced options' menu under the search bar.
We hope you find the changes useful. If you have any questions comments or even feature requests, just drop us a line at support@wordtracker.com - we're always happy to hear from people who use our tools.