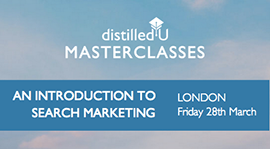 We're pretty passionate about sharing knowledge at Distilled. We've been running SearchLove (and previously LinkLove too) conferences since 2009, plus we regularly discuss new ideas and techniques on our blog and social channels.
In 2011 we created our own online university named DistilledU, and it's proved to be pretty damn popular. So popular in fact, we've now decided to hand-pick the best bits and turn these into a practical, in-person training event - the DistilledU Masterclass.
What will we be covering?
If you need help getting your head around the analytics and measurement of your campaigns, or your team needs a refresher when it comes to content-based link building, then this is the course for you! You can read the full session descriptions over on our site. But in short, here's what we'll be covering:
You'll learn: What the World Wide Web consists of; the history and purpose of search engines; a brief overview of crawling, indexing and ranking; plus recent search engine developments.
Understand how search engines discover, understand and rank web pages from a technical perspective. Learn to diagnose inevitable problems, improve existing websites and specify high performance redesigns or fresh builds. Plus, on-page optimisation.
This session will show you the importance of analytics to your business, how to use the data it gives you and the technical side of how analytics data is gathered.
Discover how to research your market, tools for determining common searcher behaviour and tactics for incorporating the answers into your website structure.
How to get started. Do you make your current site responsive or do you build a separate mobile site? We've put together an outline of some considerations you'll need to bear in mind, along with our best practice guidelines and other tips and tricks for every stage of the process.
In this lesson, Paddy will talk about the principles of creating content that is more likely to get links and shares, along with effective ways to promote that content to a relevant audience.
If you're a regular follower of Distilled, you'll know the tutor names quite well by now and if not, you can always check out what they have to say by following them over on the Distilled blog.
We've chosen these specific topics for the first Masterclass as we believe that they incorporate the essential online marketing skills needed for any marketer who is just starting out. Think of the Masterclass as a cross between a university lecture and a seminar - combining the best bits of both!
Not a beginner?
Perhaps you've already been working in Search for a while and are starting to grow your team. Well, rather than shuffling your workload around to fit in some training sessions, why not send them to us and they can learn search marketing the Distilled way?
Either way, if you want to know any more about the Masterclass, give me a shout: lauren.brady@distilled.net.
The Masterclass will take place on Friday 28th March in Central London. Tickets are just £499+VAT. Head to the site now to secure your spot.