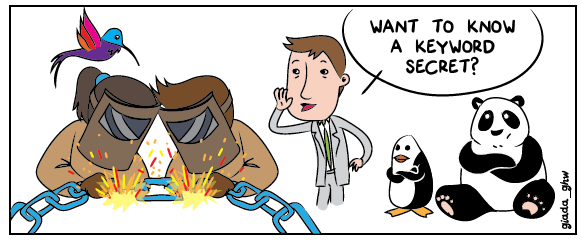 For years link builders have used keyword analysis as a part of the process of identifying what terms they should be trying to build links for. In the past, the pursuit of anchor text containing those keywords became an obsession for many SEO's, site owners, and agencies. With all the changes and updates to Google's algorithms over the years, that particular obsession is no longer relevant, but the primary importance of keywords remains.
Over the past couple years, Google has made several changes to their algorithm that have made the process of link building far more challenging than it used to be, and at the same time made the process of keyword analysis - especially as it relates to link building - much more difficult. Gone are the days of simply finding a few keywords, buying a few links or blog posts containing those terms in the anchor text of the link, and ranking well for it.
The combination of Panda, Penguin and Hummingbird have rendered old practices (including exact match domains, anchor text, and most paid links) far less effective, and will continue to be less and less effective as the search engines get smarter. Have a look at this description taken from a Google patent granted in 2011, and pay special attention to the third and final paragraph below.
"A search query, entered by a user is typically only one query of many that express the information that the user desires. For example, someone looking to buy replacement parts for their car may pose the search query "car parts." Alternatively, however, the search queries "motor part," "auto parts," or "automobile spare parts" may be as effective or more effective in returning related documents. In general, a user query will have multiple possible alternative queries that could be helpful in returning documents that the user considers relevant.
Conventionally, additional search queries relating to an initial user query may be automatically formed by the search engine based on different forms of a search term (e.g. "part" or "parts") or based on synonyms of a search term (e.g., "auto" instead of "car"). This allows the search engine to find documents that do not contain exact matches to the user's search query but that are nonetheless relevant.
A search query for a search engine may be improved by incorporating alternate terms into the search query that are semantically similar to terms of the search query, taking into account information derived from the search query. An initial set of alternate terms that may be semantically similar to the original terms in the search query is generated."
What Google is stating is they can take the search word(s) I enter into their search box and produce a set of search results for me that is based on different words, depending on the meaning and intent of those words and Google's confidence that a better search result will be given to me.
The effect of this can't be underestimated, and means much more to your linking strategy than simply trying to use every possible alternative search phrase in your anchor text. None of us can guess all the words someone might use when conducting a search - that's why keyword research is essential.
Ironically, the word Hummingbird, Google's latest update provides us with an example. What does the word "hummingbird" mean to you? What could that word mean to Google?
Look at Google's results for the word "Hummingbird". Notice how out of 20 million results, even the first 4 results are about 3 very different things:
1). The bird
2). The Google algorithm
3). The fishing device that helps people find fish, which happens to be called "humminbird" (note the missing letter "g").
This is a great example of Google trying to produce a good search result for me even though I did not provide much with my search term to show my intent.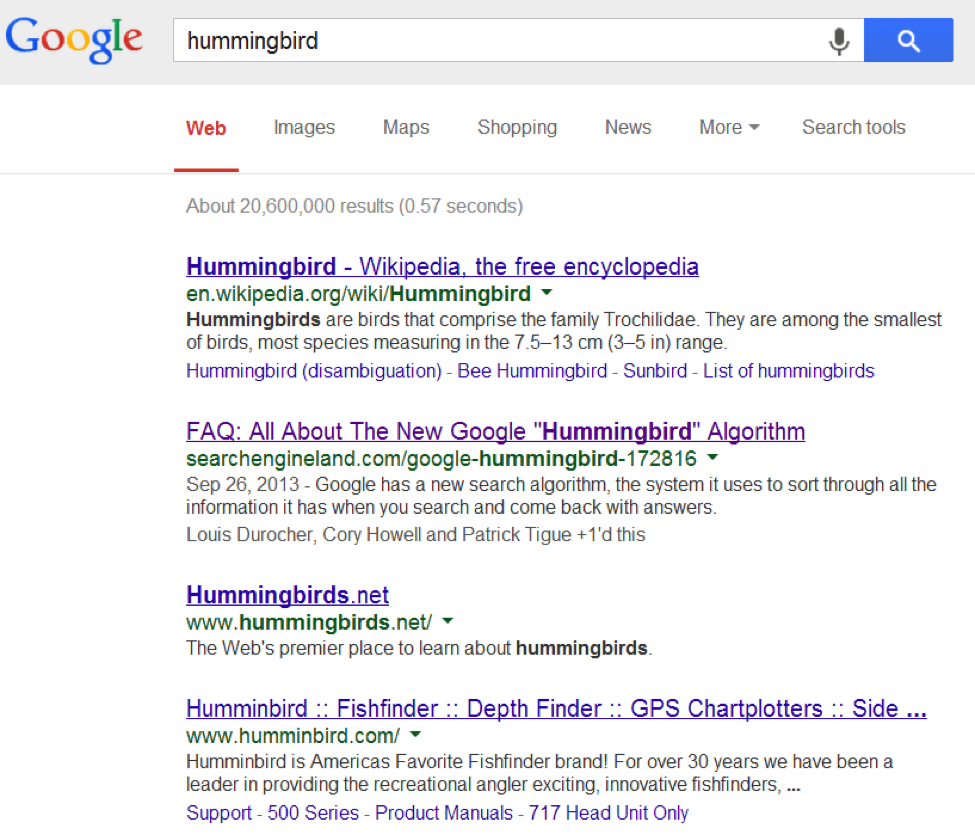 This is a much simplified example to show the challenge Google faces. That said, even though certain linking techniques don't work in the way they used to - keywords are still vital to your link building strategy. In fact, they are more important than ever.
Why Keyword Research Is Vital To Link Building
When you study the words people type into a search engine, you have the opportunity to learn many things, including
What they are looking for, i.e.,
Business hotels with tennis courts in orlando

Which questions they are seeking answers to, i.e.,
What is the average weight of an adult possum?

Intent, such as the potential they could be in a "buying" mode, i.e.,
Baseball equipment sale

Surprises!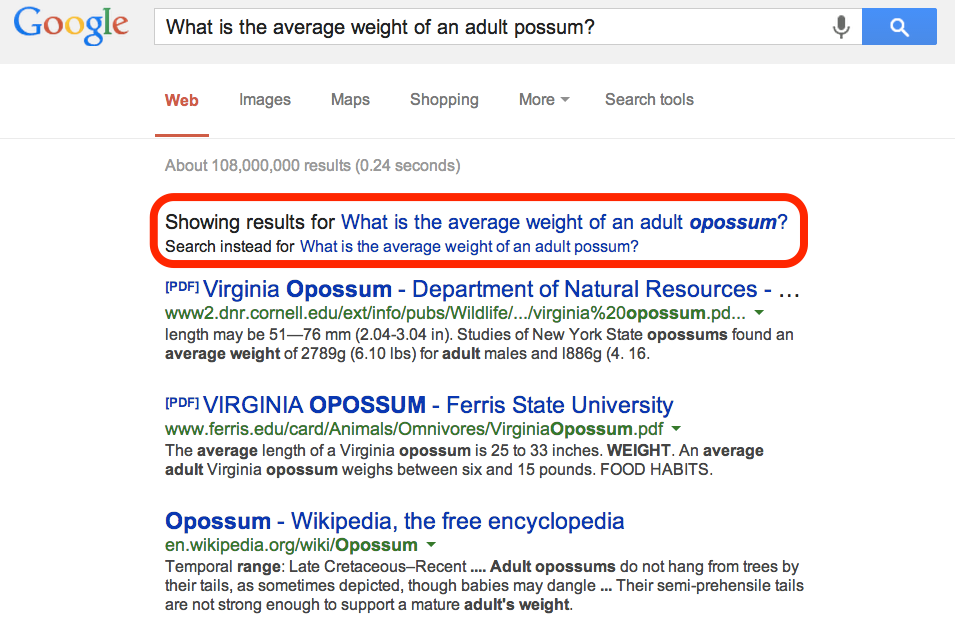 I didn't know that a possum was actually called an Opossum until Google told me that through their search results. And that's a great example of google discerning both meaning and intent from my search. They know what I wanted was information about an Opossum, even though I didn't spell it properly, so they did that for me and produced a meaningful set of results.
As link builders, you need to start relying less on keywords in your anchor text, and more on keywords, their synonyms, the entirety of the theme of the page you think you want a link from, the credibility of the sites Google is showing in the results, the author of that content and their footprint on the web beyond that page, as well as many other factors that begin with a set of keywords and evolve into an entire content creation and outreach strategy.
And that's perhaps the single biggest key to all of this. SEO and keyword research is becoming less about technical issues, and more about people, places, and things along with credibility, confidence, and trustworthiness. You no longer need those keywords in your anchor text, but you certainly need them (and their varied alternative terms and phrases) to be present on the content on which you are seeking a link. Google knows that page is about business hotels with tennis court without you having to force feed them anchor text and pay them off for it. But you need to understand and identify the other words, phrases, and themes these words represent, so you can broaden your outreach accordingly.
If you'd like to hear more about this, please join me and Ken McGaffin for a free webinar "Prospering From Link Building Post Panda and Beyond." Here's a description of the webinar:
Prospering From Link Building Post Panda and Beyond.
Link building is still vital to your search traffic - that hasn't changed. But what has changed is how you've got to do link building. Cheap tricks are out, quality tactics are most definitely in.
In this lively FREE webinar, Eric Ward and Ken McGaffin will show you what's going on with Google's algorithm changes and the smart link building strategies you must adopt to prosper in the new environment.
Eric and Ken are two of the smartest, practical thinkers in link building. They'll be sharing a ton of free information - and for people who really want to up their game, they'll explain how you can learn even more.
The free webinar is on Thursday, November 14 at 12 noon Eastern, 5 pm UK. Places are limited so register now.