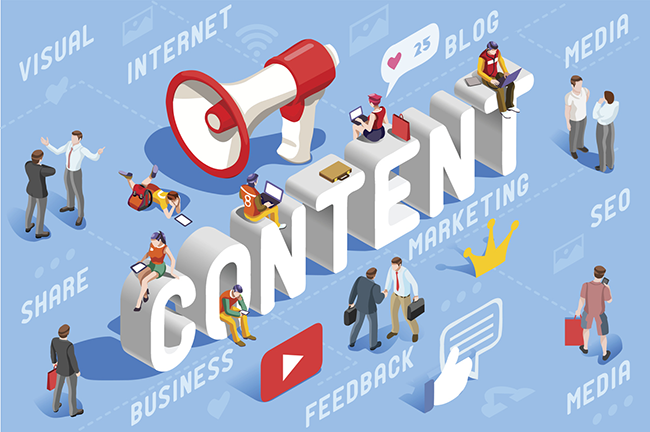 The world of writing is fast-moving and constantly evolving and writers need to be aware of what's going on if they want to create the best possible content.
Whether you're writing for your small business, a digital marketer who writes their own blog posts, or a content writer for an agency, you need to know what's happening in the content writing market in 2021.
That's why I've put together this list of some of the top trends in the market, and shared how they could influence your writing.
SEO remains a priority
Some trends come and go, but some never change. SEO is here to stay, and it's been a trend for many years, so you should already be aware of it.
The world of SEO is constantly evolving, so you need to make sure that you also check out information about the latest trends in SEO.
You should try to stay abreast of new developments by following SEO experts and influencers. Most service providers and thought leaders have a newsletter, blog or social media presence, so you can easily get the latest updates sent directly to you as soon as they occur.
One thing that never changes in SEO is that search engines and readers alike are constantly seeking fresh, well-written and insightful content.
While the way you deliver it might change slightly, the need for quality content that's engaging, well written and authoritative, meeting the needs of today's readers, remains a constant.
Google places a strong emphasis on quality content in rankings, and E-A-T (Expertise, Authority and Trust) is the metric it is focusing on to help judge page quality.
By committing to customer research and taking the time to craft quality content, you'll get your online marketing strategy off to a great start.
A greater reliance on AI
Artificial intelligence has come a long way over the years, and today, it helps in a wide range of industries, including content writing.
While some individuals believe that AI could eventually replace human writers, currently the technology isn't advanced enough. However, it can benefit writers who want to save time and effort proofreading, editing and transcribing.
Many automated proofreading and editing tools, such as Grammarly and Wordsmith, already use AI technology to improve their output and save you time.
Going forward, the focus will remain on evolving and adding new functions to these tools.
These AI-powered writing assistant tools can help you to save time, especially if you're not a professional writer.
Even professional content writers should consider using AI tools; they can add value to your work and show your clients that you're committed to giving them the best possible service.
More video script / transcript writing
Content is still king, but the definition of the word 'content' is evolving.
The variety of formats and platforms available, and the different ways in which users consume content, means more content is repurposed for different audiences and outlets.
Today, content isn't just blog posts and whitepapers: there's a new kid on the blog.
Video is a fast-growing phenomenon, and in 2021 internet users are expected to spend around 100 minutes of online video every day.
That's a lot of video content, and the ever-increasing popularity of platforms such as YouTube and TikTok is only proving the importance of video in today's business world.
As a result, digital marketers can expect to spend more of their time writing scripts for videos, as well as blog posts and social media promotions that showcase their video content.
For professional writers, I predict that you'll probably get more video script and transcript briefs in 2021.
After all, video conferencing is now the prefered method of communication, and as such, many businesses will need transcripts of meetings for minutes and notes.
Additionally, with the ongoing rise in popularity of video, many companies might now be seeking scriptwriting services to save them time and help them to create engaging videos that achieve their marketing targets.
For in-house content creators and digital marketers, as well as small business leaders, I would suggest that you brush up on your scriptwriting and transcription skills.
There are plenty of online courses to help you improve, or you could practice by transcribing existing YouTube videos or podcasts and writing practice scripts.
For content creation agencies, highlighting your transcribing skills and scriptwriting services can help you to attract additional clients who are searching for these services.
By embracing video content and writing for video, you'll be able to make the most out of this popular and flourishing medium.
Readers want better content and more of it
Ultimately, the pandemic has made budgets tighter and expectations higher. Many businesses will now have a smaller digital marketing budget, while consumers will expect quality content that will keep them entertained.
Consumers are now spending record amounts of time online, thanks to the virus and the lockdown restrictions it has caused.
As such, many businesses have risen to the challenge and provided engaging content, including videos, memes and written articles.
If your company cannot provide this content, then your clients could look elsewhere and be seduced by better, more enticing content.
High-quality written content can help you funnel interested readers through your sales process, but only if it's engaging and well-written.
For content writing agencies, business budgets will probably become smaller as they tighten their belts in preparation for whatever changes might be ahead.
As such, content writers throughout the corporate landscape need to adapt and show value with their content, whilst at the same time trying to streamline their content creation approach.
Use the tips in this article to find easy ways to improve your content strategy and boost your chances of achieving your digital marketing goals in 2021.
Conclusion: keep these trends in mind
The world of content creation is constantly evolving, so you can't afford to be complacent if you want to stay competitive.
These are some of the top trends that we're seeing in the industry as a whole; each sector has its own unique developments.
Over the coming months, new trends will arise, and even more will change in the world of corporate content creation.
By being prepared and reading about the latest trends, you'll be well-positioned to create quality content for your business or clients.