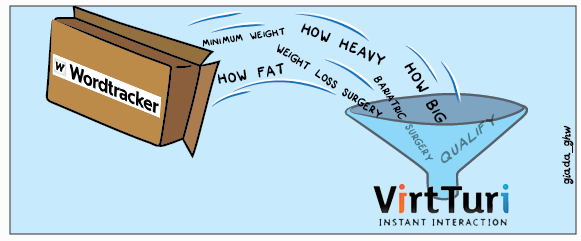 Subservient Chicken
Back in the days when Flash ruled the digital airwaves, with a tag line of "Have it your way", Burger King developed a platform which allowed the user to get a man dressed as a giant chicken to do almost anything when asked (within reason). The chicken had obviously been filmed carrying out a whole host of tasks and been added into a loop, so once he'd completed whatever it was you were asking of him, he'd end up in the starting position again. The campaign was massive back in the day.
Fast food brands 'meets' weight loss surgery… errrr, are you mad?
A little background… the weight loss surgery industry is growing at an alarming rate largely down to a change in our lifestyles, diets and attitudes towards food and exercise. It's a problem, and in some (but not all) circumstances, weight loss surgery can be an effective solution. Now consider that with the NHS over-stretched, underfunded and with a waiting time of around 2 years for an operation, many obese candidates are turning to specialist private providers in a hurry to get their lives back and avoid nasty diseases like diabetes etc.
So how did a Subservient Chicken inspire such a powerful platform that was perfectly aligned to Hummingbird's 'conversational search' algorithm?
In the case of Phoenix Health, the concept of creating a kind of 'subservient surgeon' Q & A video response app was born. Type in a question and get a video response from the actual guy likely to be operating on you!
The benefits of an approach like this include:
Brand humanisation/bonding

Brand differentiator

Convenience to the user

…and not forgetting the improvement in natural search positioning!
Gotta be startin' something…
Having undertaken some initial research using the Wordtracker question tool [this is awaiting implentation in our tool upgrade soon. Ed.], it was immediately apparent that there was a tonne of questions being asked around weight loss surgery. The challenge was clear.
So, how could we address these biting questions head on whilst aligning them to consumer social media usage AND cementing an immediate bond between the brand and the prospect?
This was the point at which we built our bespoke video Q & A platform.
In essence, the basic version of the platform uses Vimeo hosted video content, each with the site owner (or their representative) talking directly to camera and addressing questions with a short, 'to the point' answer. VirtTuri is in essence a unique, responsive web platform designed for ease of use and primed for positive, organic search positioning.
In the case of Phoenix Health, Lead Surgeon, Professor David Kerrigan, addresses 55 of the most commonly asked questions with responses running between 20 and 90 seconds, depending on how complex the questions are.
But how to populate this tool? Oh, those beautiful keywords...
The VirtTuri platform has been specifically wireframed to host optimized video with supporting textual content, allowing for alternative question structures, meta data, descriptive text as well as downloadable documentation (if required) to support each video response. It's pretty clever stuff.
As you can imagine there was a good deal of reliance upon Wordtracker to deliver the goods, and we're pleased to report that it did!
The 5 keyword opportunities below demonstrate the potential power VirtTuri (helped by the power of the Wordtracker keyword database) offers brands wanting to get ahead of the competition.
Keyword opportunity 1 - Question structures
The parent and alternative question structures serve three purposes:
Firstly we need to identify the most commonly asked question and set it as the 'parent' to each piece of video content.

Secondly, the alternative question structures are there to capture all the lesser searched for questions relating to the topic from search engines.

Thirdly, when a user types in an alternative question in to the search bar, it automatically connects it to the most relevant answer.
Example:
Parent question - "Is weight loss surgery safe?"
Alternative questions - "Weight loss surgery safety?" ''Is weight loss surgery dangerous?" "What are the risks of weight loss surgery?"
Keyword opportunity 2 - Meta data
We built VirtTuri using a bespoke content management system which offers full control to the client in terms of adding or deleting video, amending meta data, alternative question structures as well as adding supporting documentation and a textual script of each movie. Specifically, like any web page, the meta data allowances includes 'Title' and 'Description'.
Aside from meta data inclusion for SEO purposes, a further reason for adding relevant keywords is the fact that the system can predict potential answers to questions as soon as the user types the first few words, ultimately delivering greater convenience and quicker answers.
In the case of Phoenix Health, having fully researched each set of keywords relating to each of the 55 movies, we implemented all the necessary meta data as the below example shows:
Example
Parent Question - "How heavy do I have to be to have weight loss surgery?"
Alternatives – "What weight do you have to be to have weight loss surgery?" "How fat do you have to be to have weight loss surgery?" "Minimum weight for weight loss surgery?" "What BMI for weight loss surgery?" "What BMI for bariatric surgery?"
Keywords – How fat, how heavy, how big, qualify, weight loss surgery, bariatric surgery, minimum weight, BMI, body mass index
Keyword opportunity 3 – Transcripts
Underneath each movie we allow space for the presenter's script to be uploaded. For one, this offers the user another means of understanding the answer if they don't perhaps fully understand the clip, but more importantly this is another fantastic opportunity to sprinkle in some keywords (and of course the related keywords, synonyms and so on). The script obviously doesn't need to mirror the video exactly, but we feel it helps to do so!
Keyword opportunity 4 – Supporting documentation
VirtTuri allows for the brand to add specific supporting documentation file below each movie and on the specific answer page. This may be helpful for a number of reasons:

If you have technical specifications or more graphical data the user needs to access in relation to an answer.

If you wish to provide coupons relevant to specific movies.

It's an additional opportunity for you to target specific keywords (within PDFs).
Keyword opportunity 5 – Branded and optimized Youtube versions
Finally, a bonus opportunity to generate even more organic traffic in perpetuity by recycling your movie content is to 'top and tail' it with your branding, upload it to your Youtube channel, then add your optimised meta data (keywords, transcripts and so on). In reality you are therefore getting 2 bites of the cherry, both within branded environments – double the chance of driving traffic and converting new business!
Let's not forget the perfect alignment to Hummingbird's 'conversational search' algorithm. The platform allows us to optimize for our primary keywords, but also allows space within the metadata and the transcripts to use the best language possible (the language of our clients' customers) so that search engines will recognize not only the uniqueness of the body of content, but also (given that a series of questions are answered) helps to build authority in the clients' chosen niches - and by building a helpful, clear, keyword-based (and easy to index) resource, we've created for our clients a rich service that will also attract links from others in those niches.
The end result
Within just 2 months of launching a VirtTuri platform on a sub domain within their website, Phoenix Health are generating the equivalent of an additional £3,500 worth of organic traffic each month (calculated against an average PPC value) thanks to the platform and the variety of keywords attached to it. What's more, as their VirtTuri beds in this figure is growing at a rate of 10% each month.

Find out more about the VirtTuri platform for yourself here.
Editor's note:

Keyword Questions was a popular feature in our older toolset, and it's returning in a few weeks in our new tool (more about that later.) In the meantime, there's a workaround you can use to get very similar results: In the seed word box, just use the wildcard feature (explained by Saby in this article), and use your seed term against some 'question' keywords, incorporating the wildcard into the seeds, and you'll get keywords back that are mostly questions - try it out!