Here are 10 tactics that have worked to get a lot more traffic, links and shares for me, and my clients. You can start to implement them today to reap similar rewards:
1. Search engine optimization
Ranking well in Google for search terms is one way to pick up new visitors to your website. To do this successfully you will need to do a good job with your Search Engine Optimization (SEO).
SEO work typically includes reviewing (and revising where necessary) your page titles and meta descriptions, carrying out link building, dealing with redirects, 404s and fixing broken links to increase your rankings.
Once you're ranking well in Google for a few key terms (or lots of relevant longtail keywords) you'll begin to see a nice flow of traffic on a regular basis.
Start by optimizing your popular pages. You can identify these in Google Analytics and then look to increase your rankings for these. This can be done by optimising the content, building external and internal links to these pages.
For SEO to bring you the right kind of visitors, you need to ensure that the search terms you are showing up for are suitable. You can use Wordtracker to research keywords most applicable to your niche, and find new keywords as your SEO campaign progresses.
2. Cornerstone content
One way to win over new visitors is to have epic content on your site that people will come back to, share and even cite. It's often called cornerstone or flagship content.
Cornerstone content is excellent for building up loyalty and authority – great if you are able to produce these masterpieces. The more links these content pieces collect the higher they will climb up Google's results and increase your whole website's backlink profile in the process. This in turn will help you start to rank for other keywords and pages quicker.
Giving your audience value will encourage your readers to visit again and again whilst others will naturally link to it. Again, consider your keywords when producing epic content – refer to your keyword research and try and include a relevant keyword in the title, anchor text and body text. Keep it natural though – no keyword stuffing.
3. Re-promote your top posts
Assuming you are already promoting your content on your social media accounts, you should also be re-promoting it to get even more traffic.
Whilst there's little worse than Twitter accounts that are solely scheduled Tweet after scheduled Tweet, you can't deny that a number of them have a boat load of followers, so it may be something you can use judiciously.
There are lessons we can learn from these types of account – they're smart. They spot which content is getting the most interaction, winning the most followers and schedule it a couple more times. This may be on a different day of the week or at a different time of the day to engage with any audience members that may have missed the original tweet. If it was popular the first time around, there's a good chance more people will want to read it too.
Another good tactic is to use sponsored Tweets for your most popular content. As Larry Kim showed at the Hero Conference in 2015, a clever strategy is to take your most popular content (based on interactions) and create a sponsored Tweet campaign targeting your ideal audience.
With Twitter's sponsored posts you can create the audience you want to target – you can segment by age, location or even email address. So if you have the email addresses of 1,000 influencers you want to promote your content to, using sponsored Tweets is a great way to do that.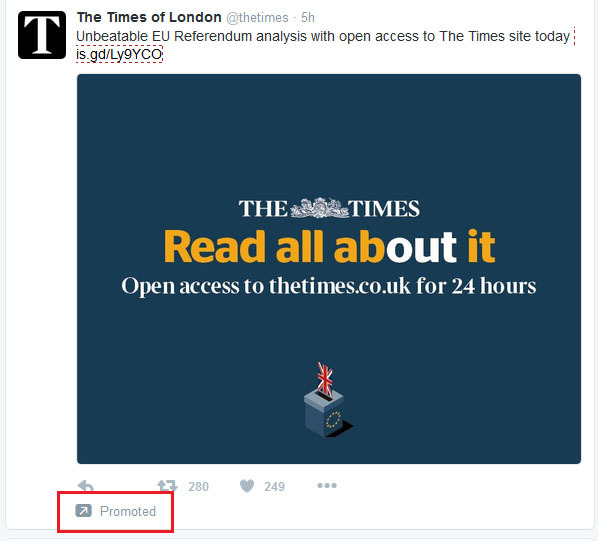 4. Write for an industry publication
Writing a regular column for industry publications can deliver a big boost for both your traffic and branding (which leads to more traffic).
This kind of exposure allows you to build your name as well as giving you the opportunity to promote your content to an already-built audience.
You're probably already aware of the big sites within your industry that you would like to write for, but if you need help finding more publications to write for, I recommend using Google, AllTop Blogs and Majestic.
A Google site search for 'write for us' is a useful search to make. If you already have good clout behind you, you may have the confidence to pitch your services directly to sites not actively seeking new writers.
Search for your keyword(s) on AllTop and it will bring back relevant publications relating to this. Likewise, with Majestic you can do a search for your keywords to bring back the most popular sites by backlink. You can also use Majestic for looking at what backlinks your competitors have as you may want to target those same sites too.
5. Scheduling
Timing is everything and the best way to find out which time of the day and day of the week is best to publish your articles is to test it. You'll need to do lots of testing too and ultimately you may not even find a perfect time.
Through testing you'll certainly be able to eliminate certain times and days for publishing your content. Perhaps Monday morning and Friday afternoons give poor returns but Tuesday mornings and Saturday evenings work best for you. You'll only know if you test.
If it's breaking news you'll naturally want to get it out as soon as possible.
6. Strong content
Focus on great content that will naturally attract links and social shares.
If like me, you're not very gifted when it comes to creating graphics, apps and other fun stuff there are places you can outsource your work to. Try sites like Fiverr, PeoplePerHour and Freelancer.com to find experts who can do the work for you at a good price.
Great content can take many forms - a news story that you've created through a PR stunt for example. Data is a very popular whilst quotes and opinion pieces are also worth considering.
Do your research before building your content. Start by working out who your target sites are and what they link to. "Would they want to link to this?" This isn't necessarily your buyer persona but rather the sites you would like to get links from. Focus on adding real value and genuinely inciting interest. Look for topics that already do well - tools such as Majestic and BuzzSumo are excellent for this research and will show you the kinds of articles getting the most social shares. You can use this as a basis for creating your own high quality content, built around topics your audience is already sharing and engaging with.
Consider the format for your content as well - try infographics, guides, images, videos and case studies.
To increase the chances of your content being picked up and shared, there's no harm in sending a polite email or Tweet to specific webmasters and social accounts to let them know that you think their audience may enjoy your content.
7. Collaborate with big bloggers
Teaming up with other bloggers in a similar industry (but who aren't necessarily competitors) to share each other's content and recommend each other's posts to one another's audiences is a good way of increasing your traffic.
Traffic is not the only benefit here. Collaborating with others can also help you drive leads, inherit links and boost your social engagement. The digital marketing industry is a great example of this in action – allowing authors to guest post on your site leads to them sharing your posts with their audience. There are lots more ways to build content with another website. Consider things like charity work, events, joint webinars or even a joint case study among other ideas.
8. Answer questions your readers are asking
It's always useful to know what your readers and/or potential customers are asking. This allows you to know what content you need to create to fulfil your customer's needs.
There are a number of places you can search to find relevant questions worth answering for your community, including by using the Questions filter in Wordtracker's keyword tool. Quora is a social network where users ask the public questions. You can search this tool to find what people are asking and use this information to build content around.
Below is an example from Quora that may be useful to turn into content if you run a healthy eating or recipes website: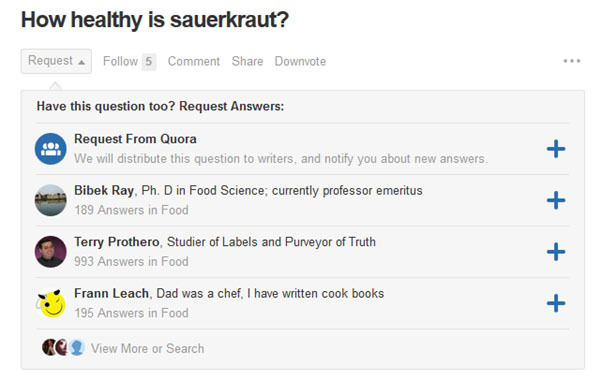 Another great free tool is Answer the Public. This is a question-based search engine – so you simply enter your keyword(s) and it will list what questions people are searching for around your term.
My example again is sauerkraut: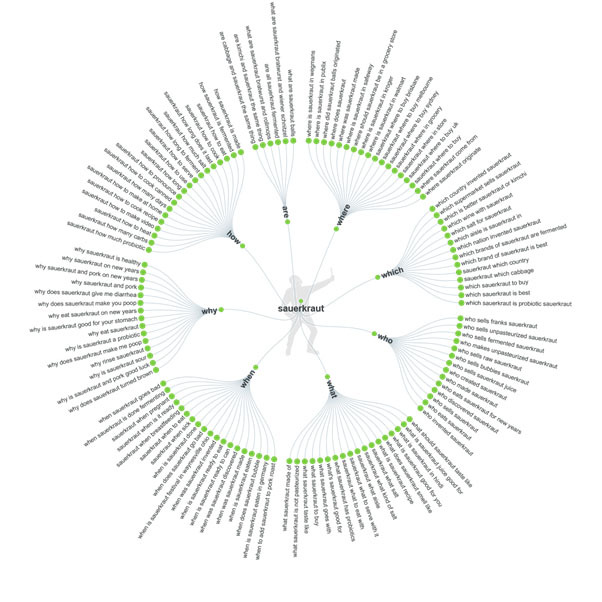 There are lots of questions here that can be turned into content and this is just from one search.
Answer the Public gives you the option to save a graph like the above or you can view the data to copy and paste into a spreadsheet or notepad.
9. Invite expert bloggers
Bloggers have their own audience and their own opinions that generate them traffic and additional followers. If you're in a position to invite influential bloggers within your industry to contribute to your blog, you have a whole new audience to target.
It works both ways – they write for your website trying to win over some of your audience, whilst they share their piece with their own audience to help you win over new followers.
If they have an email list of their own that they are able to send the piece on your blog to even better. The minimum you would expect is a tweet and a retweet from them, and sharing on their Facebook page too, if they have one.
10. Build an email list
You can't go far wrong by creating an email list. Including a simple sign-up form on your website and on your blog posts is a good way to get readers to sign up.
An email list allows you to send regular emails to your audience. Not everyone reads every single one of your blog posts. In fact, some of your audience may have only ever read one. But if they liked one specific blog post and have opted into your newsletter then you are able to send them more content to read.
It's also a low cost strategy – you pay for your email marketing service and time to produce your newsletter but otherwise have no expenses.
Email traffic can also be used to send visitors to your social media profiles, but your social media profiles can be used to collect signups for your email campaigns too.
Keep your signup simple, to avoid giving people too many boxes to fill in, and use a double opt-in where people confirm they want to be added to your mailing list. This is the signup for the Wordtracker newsletter.