A key component of ASO is keyword optimization. Optimizing your app page with relevant keywords makes it much easier for people to find you in the App Store or the Google Play Store. It all begins with thorough research to discover the right keywords to optimize your app page.
How to find the right keywords for ASO
Before you can choose the right keywords for ASO, you first need to have a list of potential keywords to choose from. To compile this initial list, you need to come up with ideas about what words and phrases your target audience is most likely to use. It's a step-by-step process, with each step playing a crucial role in determining the best keywords to use. Here's what you need to do:
Step 1: Find a relevant phrase
Get into the minds of your target user base by researching your competitors. Wordtracker's Free Scout app is a great tool for this as it will show you the keywords used on any web page.
Check out the app pages of the top performers in your category. This will help you find out the common phrases and terms they use, which are likely the popular search terms customers use to find those apps. These popular search terms will be useful for finding the best and most relevant keywords for your app.
For example, Jorte Calendar and Organizer and To-Do Calendar Planner both use the term "personal organizer" in their app description. Create a list of these common terms so you can use it to look for potential keywords for ASO.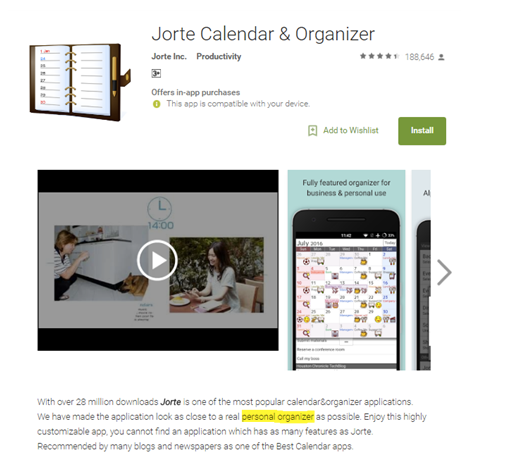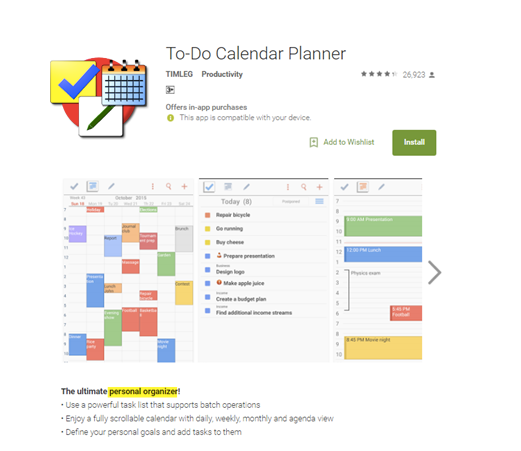 You can further expand your search by checking out app reviews. Reviews will not only show you common terms and phrases, they also help you discover use cases that you never realized before. Use cases refer to how people use an app. For example, an organizer app might have functions that also qualify it as a teamwork organizer, a team chat app, or a meeting scheduler.
Step 2: Use keyword tools to conduct research
Now that you have a list of common terms, you can use this list to conduct a search of the most relevant and high-ranking keywords for your app. For ASO, some of the best tools you can use are App Annie, Gummicube, and Sensor Tower. These tools will let you find popular search terms used within the App Store or Google Play Store.
You can also use tools like Wordtracker and the Google Keyword Planner to find out what's happening on the web. These tools can help you find popular and high-ranking keywords to optimize your app page so that people can easily find your app, even through a regular Google search.
How to choose the right keywords for ASO
The next step is the most challenging part of keyword optimization. You need to evaluate the long list of potential keywords you just created, and decide which of them will be best for your app. When evaluating keywords, consider the following factors, (in order of their importance):
Relevance – Your first priority should be to determine how relevant the keyword is to your app. Sure, free music app may be a hot search term. But if your app's not BOTH free AND about music, don't use that as a keyword. Avoid using irrelevant keywords and wasting valuable space just because those keywords are trending.
Specificity – Make sure the keyword is also specific, so that it's even more relevant to your app. Let's say your app is a music downloader and you're trying to rank for the keyword music. You may get excellent visibility if you manage to rank #1 in that keyword, but what if people aren't looking for a music downloader? Maybe they were looking for a music player, like the ones listed below.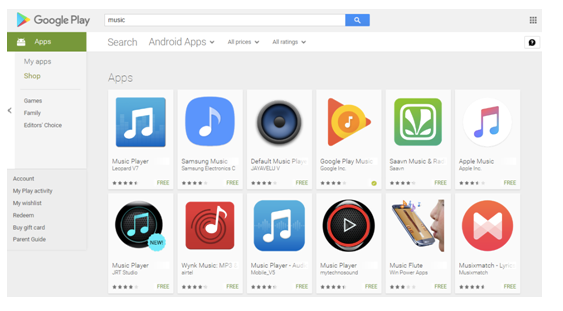 But if you try to rank for something more specific, like music downloader, the searches will be more relevant and the quality of clicks much higher. This is because people who click on your app from this search result are more likely to download it, since they're specifically looking for a music downloader.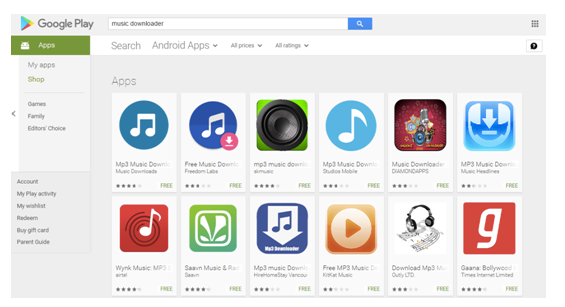 Level of competition – Generic keywords such as music will be highly competitive. If the competition for a certain keyword is too high, it becomes much more challenging to rank for that keyword. Even if the keyword you use has a lot of searches every day, your app won't perform well if you're ranking too low. Instead of trying to compete with hundreds of other apps for a highly competitive keyword, it's better to try to rank in the top 10 for a less popular keyword.
Number of searches – Now that you've filtered your list based on the first three criteria, you need to measure the quality of the keywords based on the number of searches. You have created a list of keywords based on their relevance, specificity, and level of competition. From this list, choose keywords with the highest number of searches.
How to effectively use keywords for ASO
Once you've come up with a list of keywords you should use for your app, you can start optimizing your app title and description using those keywords. Choose a main keyword that you'll be trying to rank for, and a few more to include in the app description. Keyword best practices are slightly different for the Apple App Store and the Google Play Store, so take a look at the following tips to optimize your app for either:
Google Play Store optimization tips
In Google Play, you don't have a dedicated section for listing keywords. That makes it even more important for you to use your keywords in the app title and description. Here are a few tips to keep in mind:
Try to use your main keyword in the app title but avoid overdoing it. Your app title has a limit of 30 characters. Here's an excellent example of keyword usage in myMail's app title. As you can see, the app name comes first in the title, followed by their main keyword, free email application.
Spread your keywords evenly throughout the app description, but make sure it's still user-friendly and readable. The idea is to write a description that makes sense while using your top keywords carefully throughout.
Google guidelines say "Avoid using repetitive or unrelated keywords or references" so use your keywords to maximize your app's visibility in search results but don't overdo it and don't compromise on readability. Make sure that the content flows well for the readers because at the end it's all about user experience.
Apple App Store optimization tips
When it comes to the Apple App Store, you have some limitations in terms of keyword character count. But that doesn't mean ASO using keywords is impossible, just challenging. For the title it's 50 characters, 100 characters for keywords and around 4,000 characters for app description. Here are a few tips about using keywords for ASO in the App Store:
If there's enough space after your app name, try to add your main keyword in the app title. This is where apps with shorter names have an advantage.
In the Apple App Store, spaces count as characters, so instead of using a comma and a space between keywords, separate your keywords with commas only.
Avoid repeating your keywords because Apple will only count each of them once. You'll just be wasting valuable space for other potentially effective keywords.
Conclusion
Ready to boost the ranking of your app? The keyword optimization strategies and tips above will help you find the right keywords, and use them effectively for ASO. Don't forget to audit your keywords every month, and replace them if you find that they're not performing as well as you had expected.