Before you begin the process of uploading images and writing copy, it's important to ensure that you have carried out sufficient planning.
As with any paid social media campaign, there will be a few considerations to address before you go live and start spending your precious advertising budget.
Key considerations:
What is the goal? Typical goals include generating product sales, increasing traffic to your site or increasing Instagram account likes. Make a note of these so you can refer back to them as your advertising progresses to check you're on the right track.

Who is your target audience? What gender? How old are they? What interests do they typically have?

What is the duration of the campaign and the available budget?
When you have this planned out, you can get started with your first campaign.
1. From your Business Manager page, click on 'Adverts Manager' in the left hand menu. This will take you to the Advert Manager interface.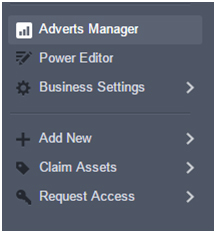 From a basic page select the top right drop down beside your notification alerts and select 'Manage Adverts' from the drop down list.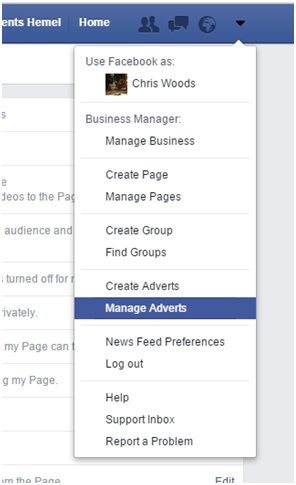 2. If this is your first time creating a campaign, you will likely be greeted with this pop up: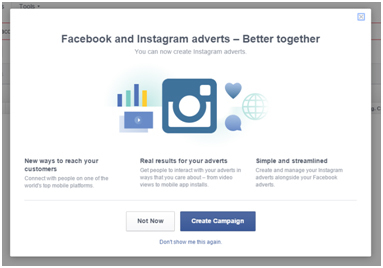 If you followed the process set out in part one of this guide, just click on 'Create Campaign' to proceed.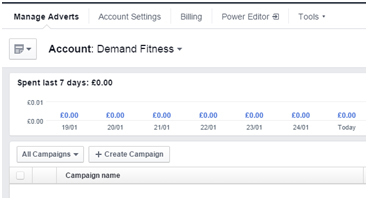 3. You'll be taken to the Manage Adverts tab. First, you'll need to select your campaign goal from the list provided. For the sake of this guide we're building a campaign to deliver traffic. So we have selected 'Send people to your website' as our objective.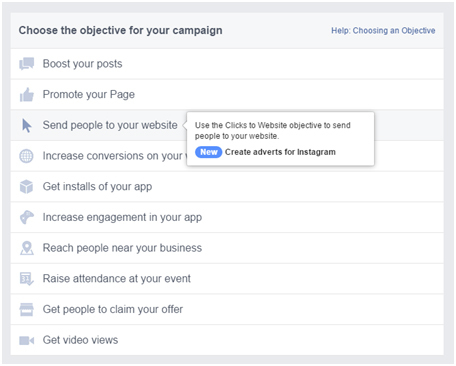 4. You will now be asked to confirm the URL of the website you want this campaign to direct traffic to.

NOTE: Always enter your home page URL at this point. Different landing pages can be selected later.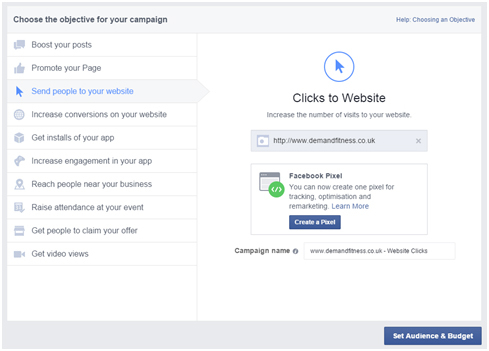 Once the URL is entered, you'll be given the chance to customize your campaign.

NOTE: Select a campaign name that represents your goal and consider including the date of the campaign. It may be empty now, but in a couple of months' time when your advert manager is full of campaigns, having a clear naming process will be a blessing!

You will also be given the opportunity to create a tracking pixel at this stage. Make sure to do this. This pixel can be used to track traffic, sales and other conversion points based on traffic delivered from the advertising campaign you're about to create. You'll have the option to email the pixel code to yourself or your developers. You don't have to install anything technical at this stage so simply choose the most convenient one.
5. Now comes audience targeting. Here are some of the options you'll have to choose from and a few tips to help you make the right decision. Don't forget, as your campaign gets underway you can refine these choices based on the advert's performance.
Audience Selection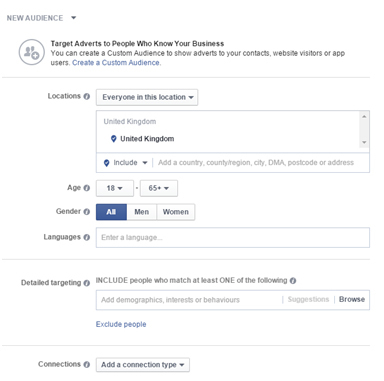 Basics
- Location: A location your audience should be physically present at in order to be eligible to see your ads. If you only ship within your state for example, you'll want to set that here so that the advert budget isn't wasted on irrelevant traffic from the other side of the country
- Age: The age range of the audience you are targeting
- Gender: Choose all, or specify just male or just female users
- Language: The user's default language preference (this isn't a required field and you can leave it blank if you wish)

Detailed Targeting
- Demographics: A selection of Facebook pre-defined audience demographics
- Interests: Associated user interests based on their social media likes and follows
- Behaviors: A pre-defined set of Facebook users based on online behaviors
- Custom: You can add almost anything here such as hobbies, interest groups, celebrities liked etc.

Connections
- You can target your adverts based on audience connections if your personal account is associated to your Facebook business account. You can additionally target those already connected/following your business on Facebook or Instagram and through this connection, target user connections of that audience.

NOTE: As you define your audience, and the more layers you add to targeting, the more niche that target audience becomes. Depending on your goals and budget, you will likely want a relatively broad audience to discover your advert, unless your messaging or offer is heavily tailored to a specific user group.

Keep an eye on the audience definition indicator in the top right of the audience page. It keeps track of your tailoring and shows you the potential daily reach of that audience.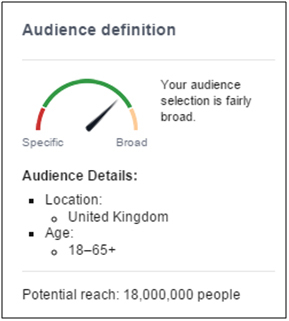 6. The next step is budget setting and scheduling. Instagram gives you multiple options to ensure you stay in control of your spend and your activity.

Budget can be set with a daily spend cap and you can choose to pay either for impressions or for clicks.

NOTE: When you decide whether to pay via impressions or clicks, the Instagram platform will determine how to show your ads. Clicks will cost more than impressions. Your choice will come down to how confident you are about your creative. If you have compelling content to show to a moderately targeted audience, and feel it will generate a good click to impression rate, CPM (costed by impressions) will likely be the best option. For a very salesy campaign, such as a straightforward 'buy a product' approach, you will be better off choosing the pay per click option.
7. Now the important bit, making sure your ads are set to display on Instagram.
The Facebook ads interface is designed to allow you to show your ads easily across all the various ad units on Facebook. This includes timeline ads, mobile ads and if it's linked up, your Instagram account. This can be confusing as it will immediately look like you are advertising on Facebook.

Here's where to make the vital changes:

After adding the image you want to use by clicking 'Add Image' midway down the page, you'll be able to see your advert preview.

NOTE: Remember that Instagram images are square so use a square ratio image (equal height and width in pixels). The official image size recommendation is 1080 x 1080 pixels.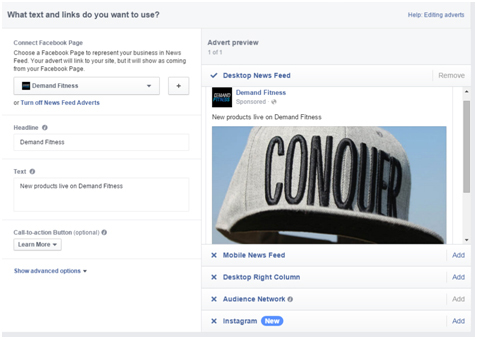 Beneath the advert preview on the right hand side of the page you'll see drop downs for the different ad types. You'll also see either 'Add' or 'Remove' beside each one.
Instagram is at the bottom. Click 'Add' beside Instagram to add this ad unit to your selection.

NOTE: Only after adding Instagram as an ad can you successfully 'Remove' the default Desktop News Feed ad unit and all other units.
8. After making the changes you will be presented with a preview of your Instagram advert under the Instagram drop down.

Don't forget to add your body text on the left hand side and select the appropriate call to action for your campaign. Here's our completed ad: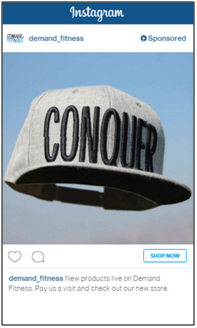 9. All you need to do now is to review and place your order. The ads will go live at the scheduled time to your elected audience in line with your budget.
Congratulations! You have created your first Instagram advert and campaign. You can still make changes and add extra budget at any time by logging back in to advert manager.