The Instagram platform engages users with a unique discovery feel, making it an interesting proposition for brands and businesses looking to engage with the platform's network of users.
Instagram has developed its advertising so that it maintains a non-intrusive feel. It feels less salesy than sponsored posts on Facebook, giving users a sense of discovering something new when they come across a brand advert, rather than encountering a sales promotion to be skipped through.
Instagram advertising is also limited so users should see no more than a couple of ads in any single browsing session. This is intended to keep the integrity of the platform high while allowing advertisers the chance to appear as close to a genuine piece of content as possible.
So how do you get started with Instagram advertising? Here's our step-by-step guide using a new fitness brand as an example to help you work through each stage:

Step 1 – Starting an advertising account and setting up payment info
Instagram is owned by Facebook, so all billing and account admin is handled through the Facebook interface. Even if you only intend to use Instagram ads and have no plans to start advertising on Facebook, you'll still need to follow this process to get up and running. You'll need to add an advertiser account within the Facebook business interface and provide billing information before you can start Instagram advertising.

1. To do this, log in to Facebook and select the account or page you want to advertise with.

If you are set up with Business Manager then select this to enter the business manager. From here click on 'Advert Manager' from the main left hand navigation.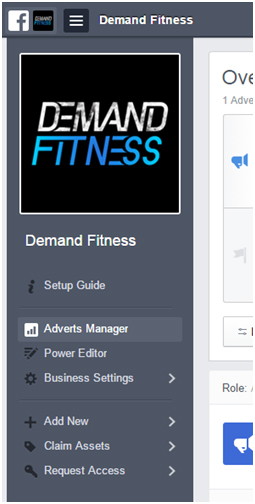 If you do not have business manager setup, you can simply use the drop down menu in the far right hand corner of your screen, beside your notification alerts. Just select 'Manage Adverts '.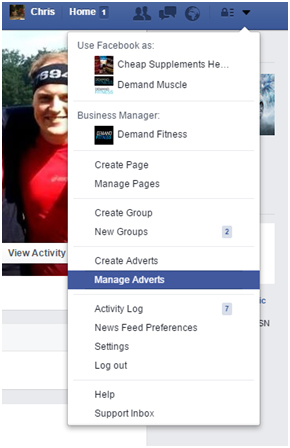 If using Business Manager, you will need to add an advert account. Select 'Add New > Advert Accounts' (top right).

NOTE : If you are not using Business Manager then you won't need to do this
3. Name your advert account. This is for your use only so no need to be creative. You'll then be prompted to choose a few basic settings including your time zone and preferred currency. Follow the on-screen instructions and your new advert account will appear on the final screen.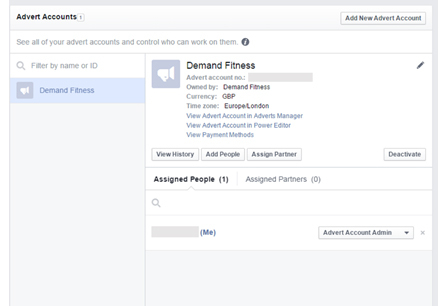 4. Upon completion of your newly created advert account, you will be prompted to assign a payment method to activate it.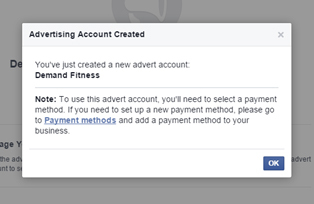 5. You can do this immediately or come back and finish it later. To action immediately, simply click the link and either assign existing payment details (if you have some saved with Facebook already), or enter new details. This is a simple matter of entering a debit or credit card number for billing purposes.

NOTE: If you are not using Business Manager, select 'Billing' from the top navigation on Advert Manager and click 'Add Payment Method' in the centre tab of the billing screen. The various methods of payment are the same.
Step 2 – Linking your Facebook advertising to Instagram
This next step requires you to have an Instagram account for your brand or business. If you haven't set one up yet, create an account before proceeding.
Once you've done that you need to link your Facebook advertising account and billing information to your Instagram account:
1. From Business Manager move to the left hand navigation area. Choose 'Business Settings' and then select 'Instagram Accounts' from the drop down menu.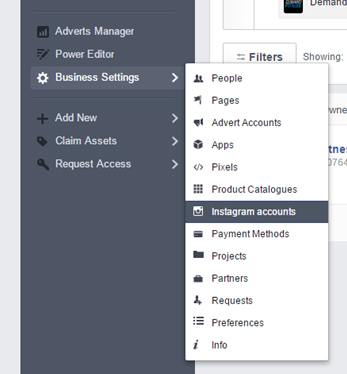 If you are not using Business Manager you'll need to navigate to 'Settings' in the top right of your screen. Select Instagram Adverts from the new left hand menu.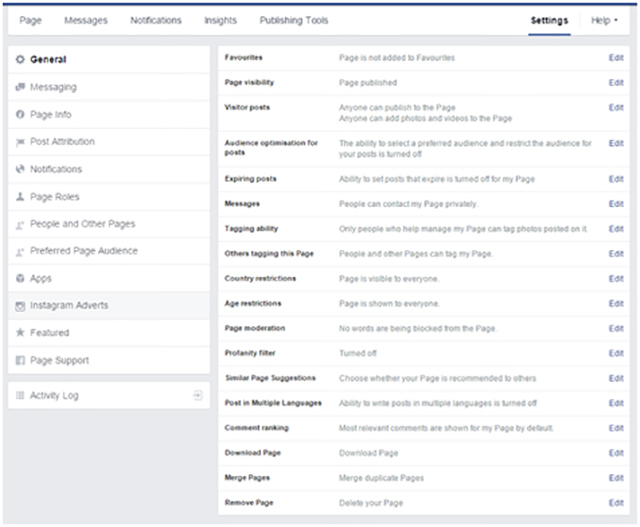 2. Click 'Claim New Instagram Account' on the next screen.
3. You will be prompted to provide a username and password. The username will simply be your Instagram handle minus the @. For example, the username for the @demand_fitness Instagram account would simply be 'demand_fitness'.
4. Once you have done this, you should see your account listed on the 'Instagram Accounts' page.
If you are using Business Manager, you now need to assign your advert account created in step one, to your Instagram account on this page.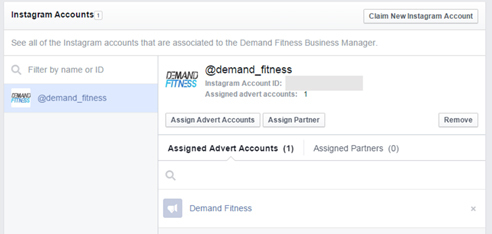 Click 'Assign Advert Account' then select your advert account from the drop down menu. If you had no accounts before, there will just be the one option to select. Once selected, the advert account will appear below your Instagram account as per the image above.
5. You have now laid all the admin groundwork to get started with Instagram advertising.
In part two, we'll cover how to set-up your first Instagram advert.