Whenever people write about LinkedIn, they mostly focus on the free features of the networks and say that those are all you need. And for most people, a free account will get you great results. But if you're looking for more, then here are some things you will get with a LinkedIn Premium Account ...
Premium account options
LinkedIn offers three different levels of premium account options for people with different goals based on their specific needs.
LinkedIn Premium for general users starts at $24.95 per month. These plans include features such as InMail, seeing more profiles when you search, access to premium search filters, ability to view expanded profiles on LinkedIn, and more.
LinkedIn Premium for Recruiters starts at $49.95 per month. These plans include talent-finding filters, saved searches with alerts for new candidates who meet your criteria, reference search, and more.
LinkedIn Premium for Job Seekers starts at $19.95 per month. These plans include the ability to zero in on $100K plus jobs with detailed salary information, ability to move up to the top of the list as a featured applicant, access to the job seeker community, and more.
LinkedIn Premium for Sales Professionals starts at $19.95 per month. These plans include a Lead Builder organizer, introductions to companies you are targeting, and more.
While some features exist only under specific accounts, such as featured applicant status for Job Seekers, most features are similar to the general user premium package.
Premium account features
Now, let's take a look at some of the premium features and how you can make them work for your LinkedIn networking needs. Most of these apply to all premium account types except for Job Seekers.
InMail
LinkedIn InMail allows you to contact anyone you are not connected to on LinkedIn. InMails will include some professional background information about you so that the recipient will be confident about who you are. You also get a response guarantee - if you don't get a response, then you get a credit to your account to contact someone else. You can also purchase InMails without a premium account for $10 each. You can learn more about LinkedIn InMails in the Help Center. It includes tips on how to send InMails to get responses.
See more profiles when you search
If you are trying to expand your LinkedIn Network, then getting more than the standard 100 results in LinkedIn search will come in useful. Each premium account type (except for Job Seekers) includes a minimum of 300 search results.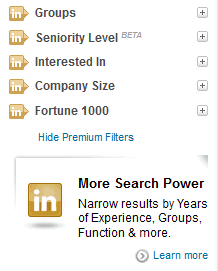 Premium search filters
There are different levels of search filters. Each premium account type (except for Job Seekers) includes basic Premium Filters such as:
Seniority - Filter people in search results based on their seniority titles (Director, Manager, Intern, etc).
Company Size - Filter people in search results based on the size of the company they work for.
Interests - Filter people in search results based on their LinkedIn goals to reconnect, reference check, be an industry expert, look for employment, and so forth.
Fortune 1000 - Filter people in search results based on whether they work at a Fortune 500 company.
If you subscribe to the highest plan for each premium account type (except for Job Seekers), it will include Premium and Talent filters such as:
Your Groups - Use the 'people search' to search for possible connections within your groups.
Years of Experience - Filter people in search results based on their years of job experience.
Function - Filter people in search results based on their job function.
New to LinkedIn - Filter people in search results based on whether they are new to LinkedIn. This is a great way to catch new people joining the network who fit your criteria.
Premium accounts for Recruiters also include an additional set of filters for years at a company, years in a position, company type, and recommendations.
See expanded profile views
Tired of seeing this when you view the profile of someone you don't know?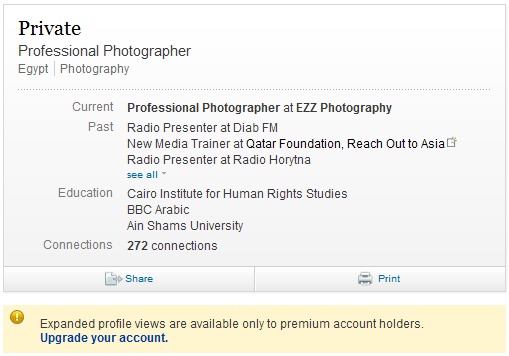 Limited profile views will only show you the very basics about a person and their profile summary when they are out of your network. Expanded profile views will allow you to see their first name, photo, job details, recommendations, educational background, skills, and any other information or applications they have added to their profiles.
See who has viewed your profile
LinkedIn allows you to see who has viewed your profile if you turn on the setting to allow others to see if you have viewed their profile. With a premium account, you can see that list without having to give up your own viewing privacy. But instead of just seeing who viewed your profile, you will also get to see which keywords people searched to get to your profile.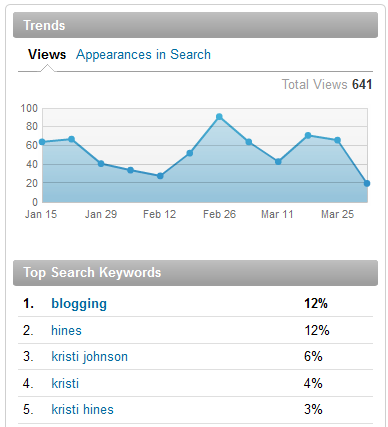 Beneath the top 30 keywords that brought visitors to your profile, you can also see more about people viewing your profile such as their industry and location.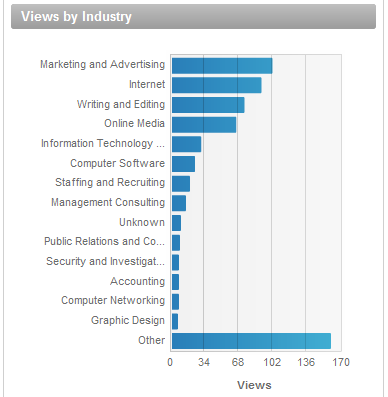 This can give you great insight into whether your profile information is bringing you targeted viewers. If not, you might want to optimize your profile with better keywords, job titles, and industry categorization.
Profile organizer
Want to organize your contacts with more than just tags? Try the LinkedIn Profile Organizer. It allows you to add LinkedIn members to your Profile Organizer quickly by simply saving their profile.

Once you save profiles to your organizer, you can further organize them by adding them to folders.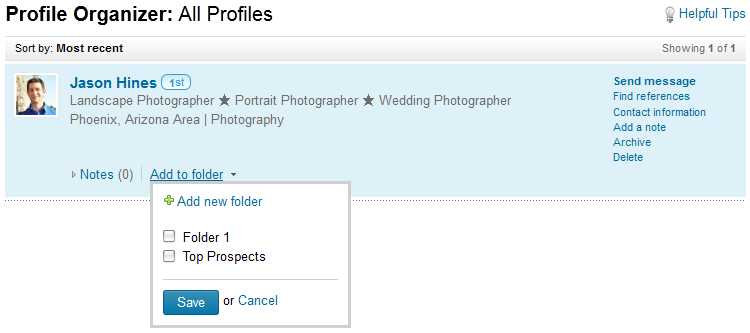 Saved search alerts
Do you perform the same search for people regularly? With a premium account, you can perform a search, save it, and receive alerts when new results come in.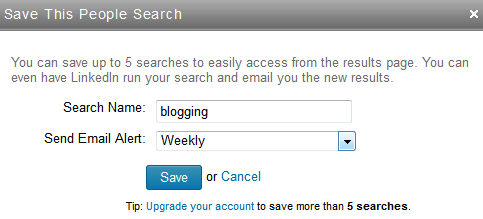 Get introduced
If you don't have any more InMails and you want to connect with someone who is a 2nd or 3rd degree connection, you can do so with Introductions. When you visit the person's profile, there will be a link to get introduced through a connection. You will essentially choose the best person to make the introduction and send them a message about why you want to connect.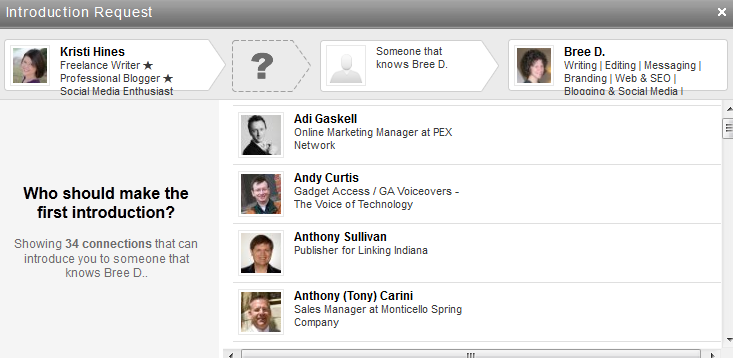 Different levels of premium accounts will allow you to have a certain number of outstanding connection requests at a time. Be sure to use them wisely! You can learn more about requesting an introduction in the LinkedIn Help Center.
See the names of 3rd degree connections
Some subscription plans will allow you to see the full name of your 3rd degree connections. This will make it easier to recognize the people you might want to connect with.
Reference search
Want to get more references on a person besides their recommendations on LinkedIn? You can use the Reference Search to look for people who have worked with another LinkedIn user to contact them about their performance.
Allow anyone to message you with OpenLink
Want to make sure you can receive a message from anyone on LinkedIn, whether or not they are connected to you? You can do so by opting in to being an OpenLink member. This way, any LinkedIn member can message you without using introductions or InMails. This might open the door to more messages that you aren't interested in, but it will make sure you are always open to messages you will be interested in.
Is a premium account right for you?
If you feel like you can't live without any of the above features or others offered for Recruiters, Job Seekers, and Sales Professionals, then you can always try LinkedIn Premium for a month to see what you get out of them. Then revert back to your regular, free account if you don't think it's working out for you. It never hurts to give it a try - one month could make a world of difference!
Other LinkedIn articles by Kristi Hines
How to set up a LinkedIn professional profile
How to create a company page on LinkedIn
How to gain traffic and exposure using LinkedIn Groups and Answers
How to find connections and get recommendations on LinkedIn