In the last article in this series, Kristi Hines mentioned the benefit of using LinkedIn Groups to connect with others to build your network. In this one, she discusses how to use LinkedIn Groups and LinkedIn Answers to build your authority, gain exposure, and increase traffic to your website.
Joining LinkedIn Groups
There are two ways to get the most out of LinkedIn Groups - joining groups and creating your own. Get a feel for how groups work by joining some in your industry as well as joining groups your target audience might join. You can be a member of up to 50 groups. To search groups, use the search box in your LinkedIn menu bar, change the dropdown to 'Groups', and enter your desired keywords.

You can then start viewing the results, or filter the results down to groups you may like (based on the groups you have already joined), open groups (groups where you can view content without joining), and members only groups (groups where you have to become a member before you can see the content).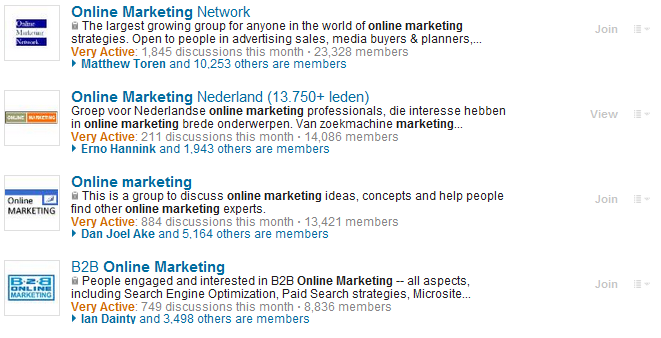 You can join groups directly from the search results, or you can click on each group to get an idea what kind of discussions it has before you join. Be sure to think about your goals before joining a group - if you want traffic back to your website, for example, make sure the group allows people to post links in the discussions. If you want to build authority, make sure discussions have lots of comments as it shows people are actively discussing topics and not posting promotions or advertisements.
Once you are a member of a group, check out the group's profile to see if there are any specific rules. Monitor discussions for a few days to see what types of topics do well. Then jump in with your own comments and new discussions as applicable. Group participation is a great way to demonstrate your expertise on a given topic and get exposure for your professional profile. You'll likely start to receive requests to connect from others in the group based on your participation.
If one of your goals is to build website traffic, be sure to share the occasional link to your latest piece of content in the group. You can do this by sharing a link when you start a new discussion by using the 'Attach a link' option.

Alternatively, you can share a link on your profile, then when the update is posted, click on the 'Share link' beneath it.

On the screen that pops up, check 'Post to group(s)' and enter the names of the groups you want to share the link with plus a discussion subject and detail.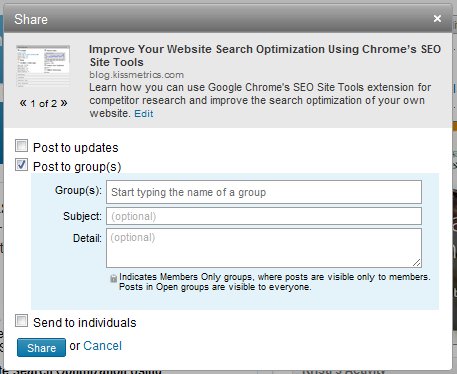 Once you post a discussion, be sure to check your emails for any comments made to your discussions. By replying to comments, you demonstrate that you aren't just there to promote your links - you're there to be part of the community!
Creating your own Group
Once you have a good feel for how LinkedIn Groups work, you can look into starting your own group. The benefits of starting your own group include:
You make the rules about what can be discussed and promoted.
You can create a welcome email for new members that includes whatever content you choose (including a link back to your own website if applicable).
You can directly email all of the members of the group with whatever you choose once a week.
You can select three discussions as manager's choice to always be displayed at the top of the group's home page.
You are recognized as the owner of the group on the group's profile page.
As far as gaining exposure for your professional profile, building authority in your industry, and getting traffic back to your website, creating LinkedIn Groups is definitely the way to go. Especially since you can almost count members of your group as mailing list subscribers since you can email them once a week for group-related news which can include an email signature with your name and website link at the end.
To create a group, select the 'Create a Group' option under the Groups menu. Then simply fill out the details of your group including the name, logo, summary, description, website, and other basic information. Make sure the name of your group is very keyword friendly so that the right people can find it easily.
Once you have created your group, click on the 'Manage' link.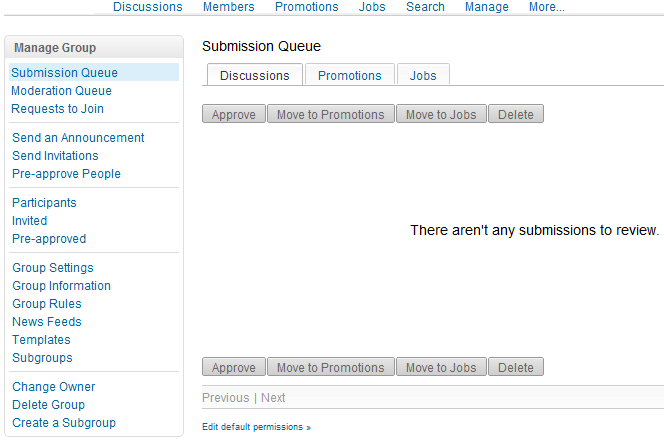 Here, you will have access to some important features such as inviting your connections to your group, sending announcement emails, creating message templates (including the custom welcome message), creating group rules, and much more.
Using LinkedIn Answers
The other great area to build authority within your industry is in LinkedIn Answers. LinkedIn Answers is a professional question and answers community where you can find information in topics from Administration to Technology. You can even help others with their questions about LinkedIn in the Using LinkedIn category.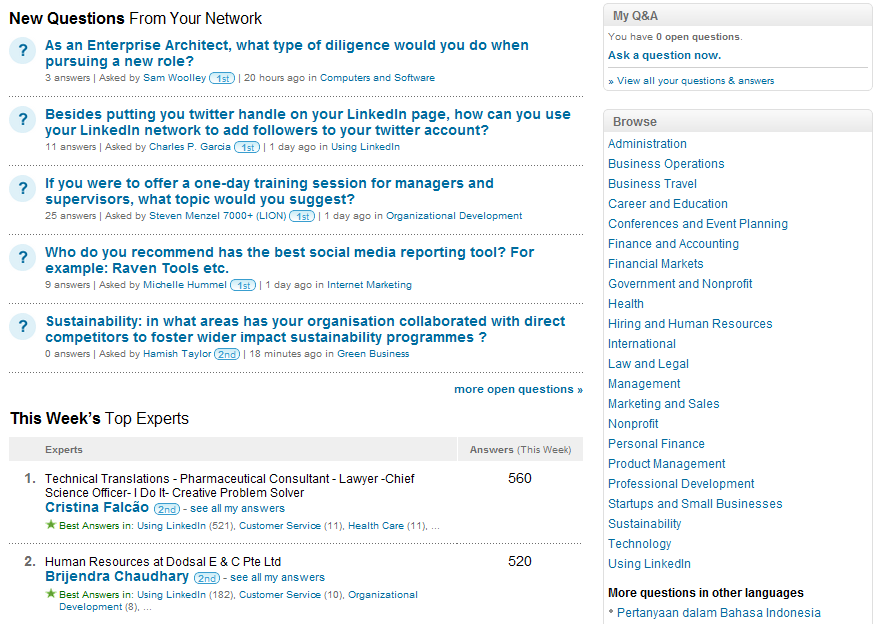 One highlight on the Answers home page that you should be interested in for authority-building purposes is "This Week's Top Experts". This section is reserved for the people that answer the most questions and have the most answers voted as Best Answer. While it might be tough to make it on the home page (requiring 300+ answers), it is relatively easy to get to the home page of different categories within LinkedIn Answers by answering only 10 - 20 questions.
Whenever you answer a question, you have the option to add 'Web Resources' to supplement your response. This is a great way to link to content on your website if (and only if) it is relevant additional reading for the person that asked the question.
Another nice benefit of participating in LinkedIn Answers is you will likely receive requests to connect from members whose questions you have answered, or other members who simply like your response to questions. This can make it a quick and easy way to grow your network, one question at a time.
If you use an RSS feeder to keep up to date on the latest news and blog posts in your industry, you can also use it to keep up with the latest questions on LinkedIn Answers. Just go to the category that will likely have your target audience and click on the RSS feed for that category. It can be found in the right sidebar of each category under 'Subscribe to new questions'. This way, you can take a quick glance at your RSS reader to see if new questions have come up in multiple categories at a time.
When you utilize LinkedIn Groups and LinkedIn Answers, you will take your LinkedIn networking experience to a whole new level beyond just having a professional profile. By investing a small amount of time each day to these areas, you will strengthen your professional brand and make valuable new connections for your business.
Other articles in this series
How to set up a LinkedIn professional profile
How to find connections and get recommendations on LinkedIn
How to create a company page on LinkedIn
Join Wordtracker on LinkedIn
You can follow Wordtracker's LinkedIn Group here: