In this last in our LinkedIn series, internet marketing blogger Kristi Hines shares some valuable advice on how to set up a company page on LinkedIn.
If you have a company, then you will want to go the additional mile on LinkedIn and create a company page for your business. Currently the most followed businesses are B2B tech companies such as IBM (602,200+ followers), HP (450,210+ followers), Microsoft (434,700+ followers), and Oracle (299,500+ followers). These are followed by management consulting firms, Bank of America, and other popular brand names like Dell, GE, and Cisco.
You can add your company to LinkedIn in two different ways. When you create your professional profile and add a job position for that company, you will be asked to give additional details to create the company page, specifically a category and website. Or you can go to the 'Companies' menu, select 'Search Companies', and then click on the 'Add a Company' link.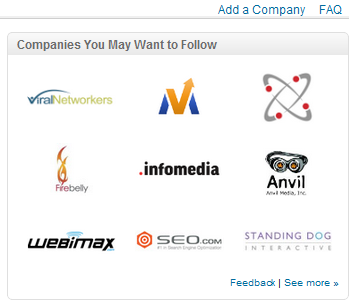 You will need to have an email address with your company's website (you@yourcompany.com) associated with your professional profile - this ensures that no one without authorized access can compromise a company's profile page. To add your company email address, go to your profile's settings and select 'Add & change email addresses' under the 'Account' tab.
Basic company information
Once you have created your company page, you will need to fill out basic details about your company including your company name, description, type, size, website, industry, and operating status.
Although other information is optional, it is best to fill out the profile completely and include a logo so people can easily recognize and learn more about your business. This includes your company's specialties, blog RSS feed, and primary company locations.
Careers
The next tab for the company profile page is 'Careers'. Here, you can post job listings on LinkedIn for members to find and apply for. The price for a job listing depends on the industry and location. You can even create a premium career page to show visitors only the jobs that match their expertise and allows you to add additional content such as video clips, custom modules, and detailed analytics.
Products & Services
A very important part of your company page is your listings under the 'Products & Services' tab. Here you can list your featured products and services, providing additional details about each.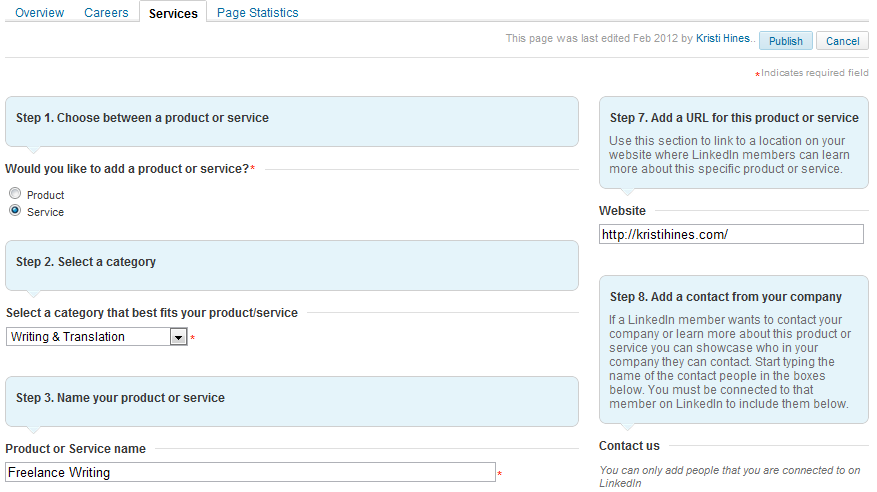 Beyond just a general description, you can assign specific employees within your company as contact points for a product or service. You can also add a YouTube video and directly website link to a specific page for the product or service. If you have a promotion, you can enter it on the product or service page as well - be sure to use specific promotion codes if possible to track your LinkedIn referrals!
Another nice feature of the Products & Services page is that you can get recommendations for items listed on your company page.

Up until now, you could only get recommendations on your personal professional profiles. The trouble with this, when it comes to businesses, is that recommendations were on employees' pages, so if the employee left the company, those recommendations would go with them. With recommendations on the company page, you can build testimonials that will stay with your company page, regardless of the change in staff.
Page statistics
After you have created your company page, you can get free statistics about visits to your page.
You can see your page views and unique visitors per tab (overview, careers, and products and services) as well as clicks on contact employee names, promotional banners, and special promotion links under your products and services items.
Promoting your Company Page
In the navigation bar at the bottom of your company page, you should see a link to 'Developers'. Under the Plugins menu, you will find several buttons and badges to use on your website to promote your company page. You can use the Company Profile Plugin to show basic details about your company including a follow button that LinkedIn users can click on to start following your company updates.
You can also use the 'Company Follow Button' to install a simple button that people can click on to start following your company page.
There are also additional buttons such as the 'Recommend' button that you can link to specific products or services listed on your Company page, leading LinkedIn users to leave a recommendation of that particular item. If you are searching for job applicants, you can use 'Jobs You May Be Interested In' to show job listings from your company page on your website.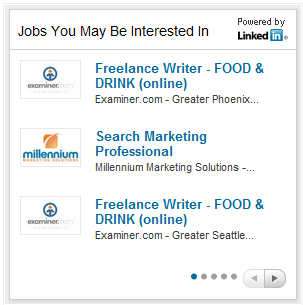 If you are interested in building up a strong base for your company on LinkedIn, be sure to integrate these buttons on to your website. They will help you build followers and brand loyalty with professionals interested in your company.
The button will look like this:
Other articles in this series
How to set up a LinkedIn professional profile
How to find connections and get recommendations on LinkedIn
How to gain traffic and exposure using LinkedIn Groups and Answers
Join Wordtracker on LinkedIn
You can follow Wordtracker's LinkedIn Group here: