You have an opportunity to get more visits and response to your site from searches with your brand name. This is because Google shows sitelinks on its results pages.
We'll show you what they are and how to optimize this opportunity.
Sitelinks are those links to your site that sometimes appear on Google's search engine results pages (SERPs) below your regular listing. They appear for brand searches, ie searches with a brand name.
Here's what they look like: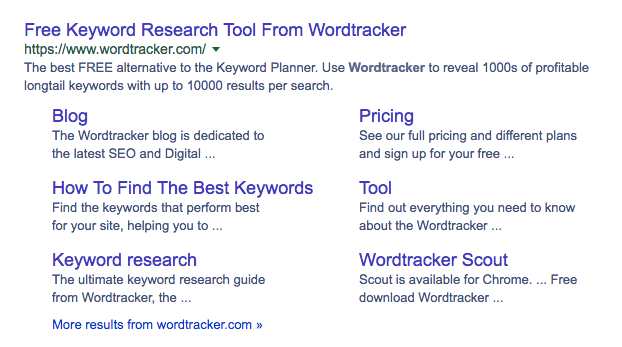 What does this mean for you?
More pages will be visited directly from a brand search on Google. It's also an opportunity to present your brand.
That's more opportunities to succeed and fail. Let's make it succeed!
Take control of these landing pages
Follow the links that show for your site's brand searches and imagine you're a new visitor to the site.
What do you see without scrolling?
Some of the links may be deep pages on your site. They can often be neglected; dull and offering little as an entrance page.
Many sites are still designed for users to enter the site by the home page. But with sitelinks visitors can go a different route.
So, ask yourself these questions:
Are these the pages I want my visitors to see above all?
Will visitors find what they want?
Will they find the best of what I offer?
Will they stay?
Will they return?
Answer the above questions and then make any changes necessary to get the answers you want.
Take control of which pages appear in your sitelinks
Use your Google Webmaster Tools (GWT) account to influence (control would be too strong a word) which pages appear in your site link.
You'll find sitelinks on the Site configuration sub menu. See image:
On that page you can ask Google to 'demote' (ie, not show) a particular URL on sitelinks. See the simple form below:

You must specify which 'search result' you want to demote a URL for. ('Search result' means the page that is shown in the regular listing.)
You can demote 100 URLs and they will be demoted for 90 days. However, Google makes no promises they will demote the page.
It's a really useful tool for directing visitors away from non-useful pages. You can use it to stop seasonal offers appearing in sitelinks after they've expired, or to stop pages appearing that are not responsive or helpful.
Get a free 7-day trial
A subscription to Wordtracker's premium Keywords tool will help you to:
Generate thousands of relevant keywords to improve your organic and PPC search campaigns.
Optimize your website content by using the most popular keywords for your product and services.
Research online markets, find niche opportunities and exploit them before your competitors.
Take a free 7-day trial of Wordtracker's Keywords tool

Join the discussion
You can keep in touch with us via Twitter. Facebook and LinkedIn