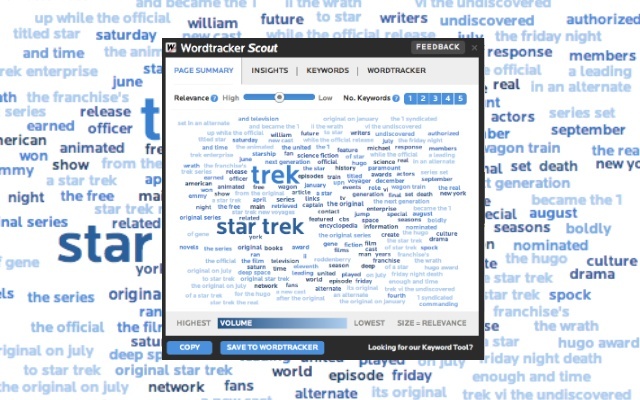 Use your competitors' websites to enhance your digital marketing with Scout, our free Chrome extension.
Here's how you can reveal the language of the market – your competition.
Your online business is doing ok, but not great. You know you need to be smarter in your marketing to build your business, but perhaps you're not exactly sure how to do that. But you do know, you need to attract more traffic, more potential customers and to improve sales. How are your business competitors doing so well? The good news is that Scout can provide some of the answers.
First off, a smart marketer needs to talk in a language that their customers understand. They need to use the right words. Let's imagine that I'm selling handmade jewelry, then I need to use the language of the handmade jewelry market. We'll take a look at some real examples taken from websites in a minute. The main point is, I need to use words that my customers understand and relate to.
Hello Scout
The Scout app helps you by generating a keyword universe from the language of your market. Scout looks at the language you find across your competitors' websites, social media, shopping sites, forums and search results. It generates a universe of keywords that reveal the language of your market – and that includes the words and language of your competition. By using Scout to take a close look at competitor websites, you can discover the words and language you need to use optimize your content and marketing. You can use your competitors' websites to build your business.
My business is handmade jewelry and I need more customers
Here's the set-up: I live in the Chicago area, Illinois, and I've got a small business selling handmade jewelry, it's my passion. Mostly I sell out of my apartment and my customers know me by word of mouth. But hey, I want everyone to know about my great jewelry.
I've got a basic website, but I don't get much traffic, the conversion rate is low and the bounce rate is high. I think I'm attracting the "wrong kind" of visitor.
How Scout can help me discover the language of my market?
To begin with, I want to target potential customers in and particularly Chicago, where I live. I feel like I know the kind of jewelry my sort-of neighbors like.
I also know that words form a bridge between buyer and seller, but I'm not quite sure how to build that bridge. I need to find the right words to build a bridge. I need to find the right words to optimize my site, my content and my marketing activity across the social media.
Scout to the rescue
Here's how Scout can help you find the right language to use in your marketing and build your business. First off, I Google "handmade jewelry Chicago" because I want to take a look at my target market in search results.
When the results come up, I click on the Scout app icon (I've already downloaded free from the Chrome store). Straight away I see a word cloud of keywords generated from the search results. Already I can see the language of the market appearing, with keywords like "designer jewelry" and "unique handmade silver."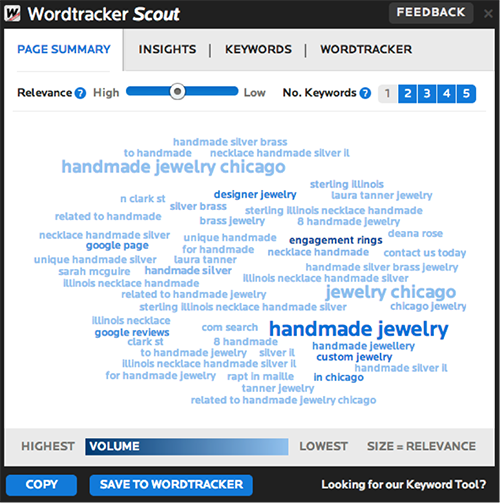 Let's dig into the search results and explore the language that my competition uses to attract customers. The top organic result (not an ad) is

We'll check out this top organic result, the Yelp listing first.
Here's the word cloud that's generated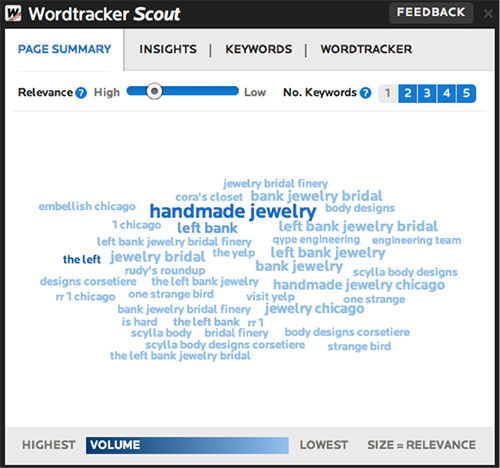 The word cloud gives me an idea the market language on the Yelp local guide, for example "bridal finery" or "jewelry bridal." A great start, but I've not got everything I need yet, so let's take a look at a few more of those search results.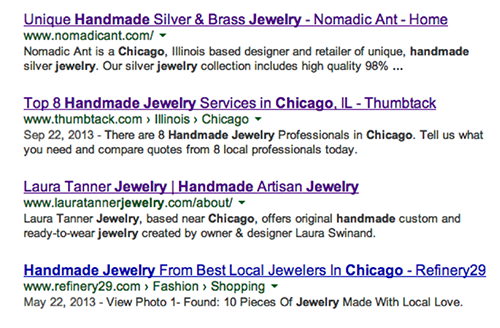 Nomadicant is right up there and I like their jewelry too. Let's visit their jewelry page and click on the Scout app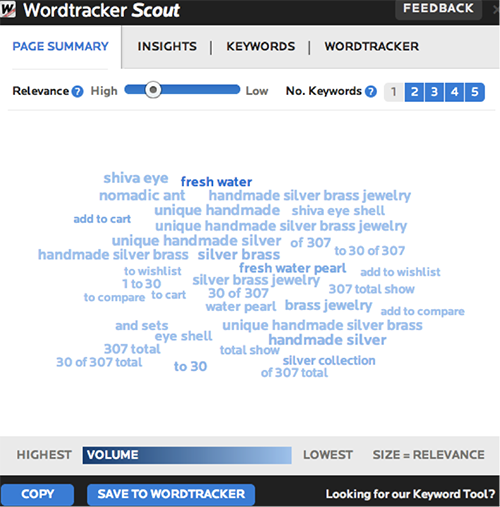 I see they are making good use of the word "unique" to attract customers. If I use the slider bar on the top and move it to the left, I can see the words most relevance to that page. I can also move the slider to the right, and I will see all of the words that Scout has analyzed – I may see a lower ratio of relevant words, but there can be insight in the sheer volume of keywords that Scout can uncover.
My marketing strategy includes a handmade jewelry blog, and articles about the things that I make, and the things that I love. So I'm going to need a lot of words for that content. Moving the slider to the right gives me kinds of word volumes and ideas I'm going to need for that. It's the stuff of long-tail keywords. Scout can inform and inspire me to write those articles and blog posts, using the language of my potential customers.
Let's dig a bit deeper and click on the Insights button. This will show me exactly where on the page Nomadicant has optimized for specific words. What I'm doing here is looking at the words my competition uses to get to the top of the search results and attract more customers.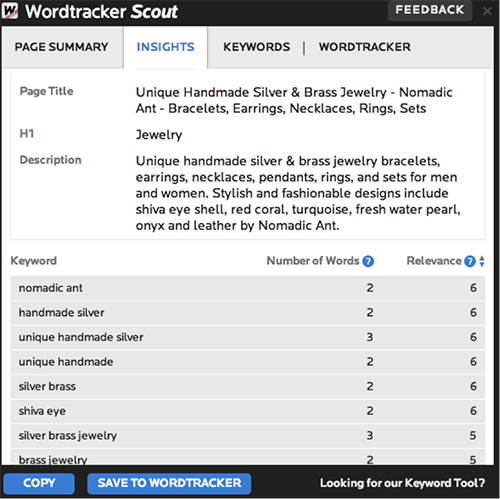 To really explore the language of my market, I need to do the same on several of my competitors. Of course you need to have some kind of a handle on who your real competition is. If your jewelry retails for around $50, you probably don't really need to use the language you find on a top of the end diamond store on Chicago's famous Jewelry Row - although even there you might find some insight/language that you can use to attract higher end customers.
Social Media
Time to widen my market research to social media. I'm going to take a look at Nomadicant on Facebook
Looks like they focused their marketing messages on "Cyber Monday" and the "one of a kind" Shopping Show in Chicago. When I moved the slider to the right to reveal a higher volume of keywords, I discovered other useful keywords like "for a Christmas gift."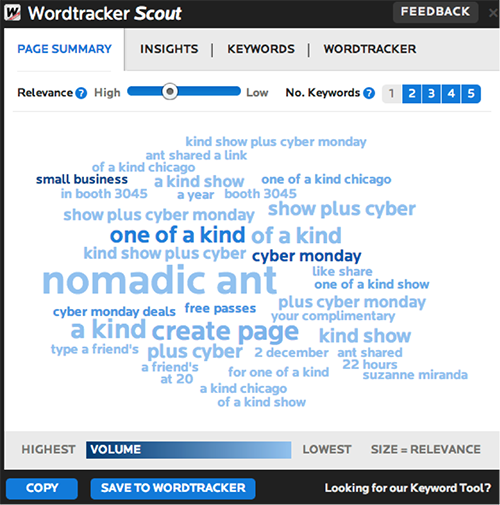 Refining my keyword research to help build my business
Now, I'm going to start refining my keyword research. I want to start identifying high-performing keywords that I can use to help build my business by optimizing my website, content and marketing campaigns. To do that, I need to start looking at keyword metrics like keyword search volumes, competition (the number of web pages that are optimizing for a specific keywords), and keyword opportunity - the potential effectiveness of a specific keyword.
I take a look at the Virgin Airways shopping guide blog aimed at visitors to Chicago. On the shopping blog, I click on the Keywords tab to take a look at keyword metrics. It's interesting to see the high search volume for "engagement rings." There's a high opportunity score there too. I wonder if there's a business opportunity there with my handmade rings?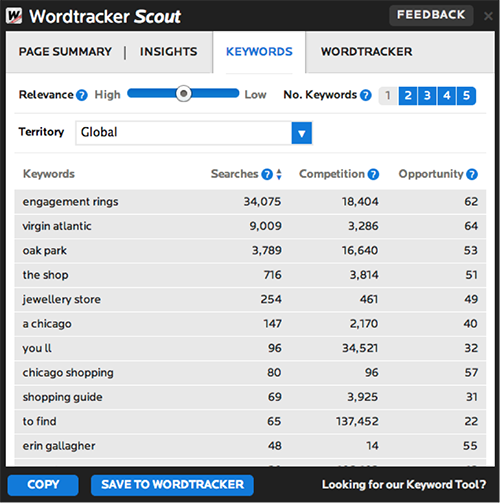 Use the Keyword Tool to identify high-performing keywords
I've used Scout to generate a whole universe of keywords from the language of the market. Scout has helped me to uncover the language that my competition uses for their business success. I've started to refine my keyword research in Scout by clicking on the Keywords tab and exploring the metrics, as you see in the image above.
Now, I'm going to need to use the Keyword Tool. The Scout metrics do help get me started, but to really refine my keyword research and reveal the high-performing keywords that I need to build my business, I do need the Keyword Tool.
Here's a hot tip. Scout and the Keyword Tool are fully integrated and you can save the results of your Scout research directly into the Keyword Tool. Once you're on the Keyword tab in Scout you simply click on the "Save to Wordtracker" button at the bottom of the Scout screen, and you can directly save to an existing project, or create a new one.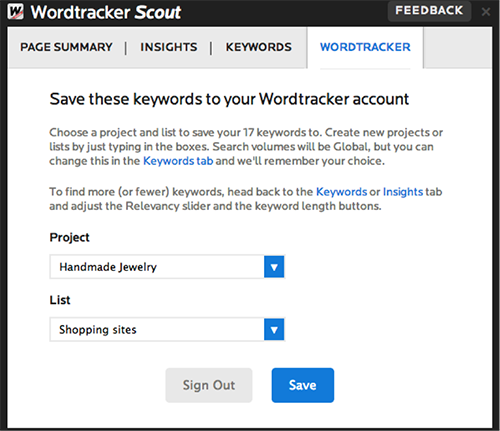 I've named my project "Handmade jewelry" and because I was looking at the Virgin shopping site, I saved directly to my list "Shopping sites." I'll be adding to that list later.
Build your business with the Keyword Tool
Scout has provided me with a universe of keywords made up of the language of the handmade jewelry market in Chicago.
The next step is to refine my keyword research in the Keyword Tool. Out of the Scout results, I need to identify exactly which keywords are the high-performing ones I need to build my business. For that I need to explore keyword metrics like volume, competition and opportunity.
Are you ready to start building your business?
It's time to sign into your account or sign-up to the Keyword Tool with a free 7 day trial today!