In part one of SEO for editorial teams, journalists and writers, we looked at how quality editorial is at the heart of building the links SEO requires. In part two, Mark Nunney looks at how they can help promote their quality content to make sure it gets the precious links it deserves and needs for search engines success.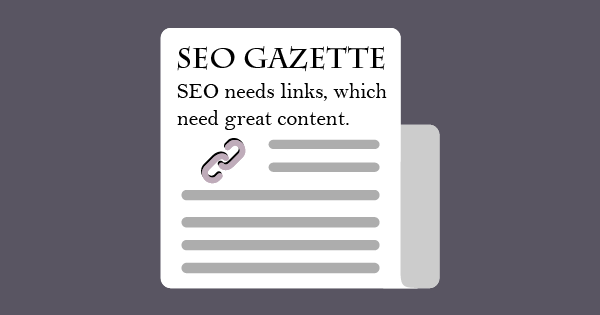 SEO, content, links, and branding
Let's start by reminding ourselves of an adage with a new twist …
Content is king,
Links are queen,
SEO is your joker and …
Branding the banker.
So your site is going nowhere without great content and SEO. And SEO needs links, which need great content.
That simple positive circle of content, SEO and links has served smart SEOs well for a long time. Branding is a recently added twist from Google.
SEO ensures:
• Your content targets the most responsive searches (keywords) for your site.
• You then make the most of that content with …
• … on-site SEO, site structure and internal links,
• … promotion for external links.
This article is about how editors, journalists and writers can help with the promotion part …
Promotion for links
To get the most readers of your wonderful content you need to promote it.
Promotion is also needed to get the most inbound links from other sites to that same content.
To maximize those links, you can use:
• An SEO or link building company
• Your in-house marketers
Both good but nothing beats doing some promotion yourself. You can do this on the following sites:
• Relevant blogs and forums
• Twitter
• Facebook
• Digg
We'll look at blogs first …
Find blogs to network with for links
Network and make friends with bloggers and they might link to your site. That's a simple tactic and it works. First you need to find the blogs.
Look for blogrolls on good sites as they are a good source of more prospects.
Sometimes the best sources of link prospects are referred traffic reports on your own site statistics software (eg, Google Anlaytics). This is a list of sites that already link and refer visitors to your site. With such prospects, your mission then becomes to make the most of the existing relationship.
Also use Twitter by searching for Tweeters interested in your market. Then follow their bio links to find their blogs. More on Twitter below.
For a wider look at link building ideas see 62 steps to the perfect link building campaign
Evaluating link prospects
As with any short list, you need to evaluate and prioritize your link prospects. Don't get too hung up on this for the following two reasons:
• Most links from sites that you, as a journalist (or subject expert), deem to be at least 'ok', are of some value. That simple filter will get rid of most of the crap.
• Your site should have a wide range of different quality links from different types of sites.
However, some links are definitely worth more than others and therefore worth more effort. Here's how to find the good ones:
• Would you want a link for this site if you'd never heard of Google? If so, then that's a good site.
• The number of other sites that link to it (more the better). This is not the same as the number of links because one site might bring hundreds of links from an advertising or affiliate campaign. Wordtracker Link Builder uses this metric to prioritize prospects.
• Alexa Rank (lower the better). Using a sample of internet users, Alexa ranks sites by how many visits they get (google.com is currently ranked No.1). See Alexa Rank for any visited site with a Firefox plugin like Search Status or Chrome SEO on, er, Chrome.
• How many comments posts attract.
• Your own judgement on the quality of the content.
Beware of avoiding the evaluation process altogether because there are millions of low quality sites offering little value. These include sites made by robots that steal (scrape) their content and sites built by armies of cheap labor less than fluent in the language they are writing in.
Targets found, now make friends
Use the following ways of making friends with your link prospects:
• Follow on Twitter.
• Retweet their tweets.
• Comment on their post.
• Help them.
• Take part in whatever way is relevant to their sites.
• Be positive.
• Review their sites on yours.
• Interview them.
All those actions are united by being about you giving before you ask for something back. They will get you a bunch of links without asking too. But the real link building is to come …
Going for the close (the link)
Use the following methods to get links from your prospects (decide which is most appropriate for each one):
• Invite them to write guest content on your site. They will link to it and promote it to their own network.
• Offer guest content to them. Eg, blog posts, articles, photos and videos. Include a link back to your site. Again, they will link to it and promote it to their own network.
• Review their products.
• Offer your products for review or your services for free.
• Send a direct message (DM) on Twitter to let them know about any new and amazing content you have that is relevant to them. This works particularly well if the content mentions them.

Notice we have returned to content. All SEO roads come back to content at some point. We'll look below at some techniques for making sure content is interesting, irresistible and, most of all, link worthy.
Network on Twitter and Facebook
Google likes Twitter and so must you.
Don't just look at Twitter as a way of getting direct links and certainly not for traffic or sales (although they can come). See Twitter as a way of finding and networking with your market's influencers.
If active tweeters like you, they will spread your brand and your message. Via them you will get links. Read Malcolm Gladwell's The Tipping Point to understand "how little things can make a big difference".
Network on Twitter as yourself and as your brand. Use tools like Tweetdeck to manage multiple accounts.
Find people to follow, and network with, on Twitter by:
• Searching Twitter with your target keywords.
• Finding relevant Lists
• Using services like Twellow
For more on Twitter, read How to Twitter
Use similar networking tactics on Facebook and Google Plus if it's looking popular and worthwhile by the time you read this (at the time of writing it's too early to say).
What will your targets link to?
Chances are your link prospects won't link to just anything. Therefore you need to learn what they will link to.
First make sure you know who they are. Read their blogs, tweets and Facebook pages.
Find out what they and their audiences like. More importantly, find out what they get emotional about. There's always something and it will be revealed in long emotional comment threads and multiple retweets.
You want to know what stories will get talked about and passed on at the modern day 'water cooler' that is 'social media', including Twitter, Facebook, specialist forums and comment threads.
A simple promotional tactic that's usually forgotten
The easiest and perhaps the most neglected way to promote your content is to build an email list that has signed up to receive regular emails containing your editorial wisdom, ie, a free newsletter.
For example, if you run a shop selling sea fishing equipment then you can run a free newsletter containing top tips and news about sea fishing. This can include your latest editorial content and blog posts, of course.
Chances are, you reached this article via such a newsletter.
Of course, it would be rude not to use that newsletter to make the occasional irresistible offer.
How to write stories that 'stick'
Two brothers, Chip and Dan Heath, set out to find out which ideas survive and get passed on, ie, 'stick'. They wrote their answers in their book, Made To Stick, which includes clear guidelines that any journalist, blogger and marketer can use to create content that will be link worthy.
Follow Made to Stick's six guidelines and make your content …
Simple. Complicated stories can't be quickly understood and therefore won't be passed on. 'Simple' also means to stay focused on one core subject - so find your lead story.
Unexpected. This is my favorite. The expected is boring and of no special interest. Break the rules, invert expectations and be different. Read Oscar Wilde quotes for inspiration.
Concrete. Be sure you write about something specific and real. Avoid the abstract. Don't get lost in your own expert knowledge.
Credentialed. Your story must be believable. This can be done with characters of authority and items of detail that convince.
Emotional. Find and touch the subjects your targets are emotional about.
Story. Almost all natural and viral communication is by story. There is a subject and an action, sometimes a conclusion. Eg, 'a man walks into a bar and …'
Add an 'S' to those six guidelines and you get SUCCESS.
A checklist for SEO for editorial and journalists
Here's an updated version of our checklist for SEO editors and journalists:
Make sure your publisher has these points covered (help if they haven't):
• Find your target keyword niches for new sites and established
• Plan and build your site's structure
• Prioritize your target keyword niches
• Recruit email addresses for a free newsletter
The following are at least partly your responsibility:
• Network to find link prospects, eg, on Twitter, Facebook and relevant blogs
• Write your story about a subject relevant to a target keyword niche and make it sticky.
• Headline: Make it clicky.
• Keyword in headline (if you can).
• Brand: If appropriate, mention your brand.
• Categorize your article so it's linked to from relevant category pages.
• Metadata: Page title and Description tags.
• Internal links: Link to key pages on your site from within your content.
• Promote your content to your network including with your free newsletter.
• Monitor your results including visits, sources of those visits, response and changes to your site's position on G's search results pages for target keyword.
---
Get a free 7-day trial
A subscription to Wordtracker's premium Keywords tool will help you to:
Generate thousands of relevant keywords to improve your organic and PPC search campaigns.
Optimize your website content by using the most popular keywords for your product and services.
Research online markets, find niche opportunities and exploit them before your competitors.
Take a free 7-day trial of Wordtracker's Keywords tool

Join the discussion
You can keep in contact with us on Google+, find us on Twitter. Facebook and LinkedIn