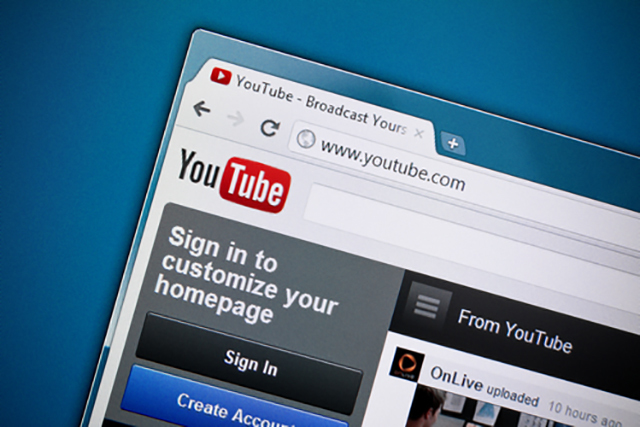 YouTube is probably one of the last social platforms you'll look at if you've been tasked with the job of getting your business social. Facebook, Twitter, Pinterest, Instagram – and even Snapchat – will usually be considered first. But there are lots of compelling reasons to push it up your To Do list.
Making the business case
Let's start with a few facts and figures to make the business case for the platform…
One third of all people on planet Earth are YouTube users. That's over a billion people logging in to check out the latest videos online.

If you're targeting the millennials, YouTube is particularly relevant. It reaches more 18-34 year olds than any cable TV network in the USA. It also reaches more 18-49 year olds than any network.

There are now 40% more daily YouTube users than there were 12 months ago. That's a huge year-on-year growth which should be very attractive to any size of business chasing eyeballs and engagement.

There's been a 100% year-on-year growth in mobile users. Which means viewers are logging on wherever they are. Whatever your business sector, YouTube lets you interact with your audience wherever they are, increasing touch point opportunities immeasurably.

The average time a mobile user will stay on YouTube is now 40 minutes – that's a huge chunk of time in which to communicate with potential customers and win new business.
Getting started

It's easy to create a YouTube account – simply sign in with your existing Google account details. You can then browse videos by searching for a particular topic or keyword.
If you are creating a YouTube account for your business, you'll want to create a branded business channel. This is similar to a Facebook business page in that you'll have a dedicated space to post your company's video content. To do this:
Sign in to YouTube

Click on the settings tab in the top right hand corner of the screen

Click on the 'See all channels or create a new channel' link

Click on the 'Create channel' button

Proceed to fill out the form by naming your new channel and selecting the category. You don't want to have to change your name later so think about it carefully and be consistent with your other social platforms.

Once you have set up your channel, you can access it from the 'My Channel' link in the left hand menu bar.

Upload your logo and channel art (this is similar to your profile picture and cover image on Facebook)

Complete the about section. Here you can give a description of your channel and add in your business contact email plus link to your other social media channels.

You're now ready to start uploading videos to your channel
Things to consider before creating and uploading your first video
Like any social media platform or other digital marketing activity, it's wise to create measurable goals and objectives and record them before you start to invest time and resources in your new YouTube channel.
Consider why you are introducing YouTube to your owned media mix and make sure you have a way of assessing its contribution to your overall success by defining KPIs.
You also want to ensure you can measure the ROI of your video activity. Typical yardsticks will be metrics such as views, likes, comments and of course clicks through to your website.
Before you go ahead and start recording your first video, it's also worth having a round table discussion to agree on topics for the first few videos. You may well want to add in a product demonstration or two but, you must also remember your audience will need a compelling reason to watch your video. A repurposed advert just won't cut it.
Think about what makes your audience tick (calling on any previous social media listening you may have done) and plan your video accordingly. A useful place to start is by asking what you can teach your audience. 'How to' videos are incredibly popular and YouTube is increasingly the first port of call for internet users wanting to know how to do something, whether that's wiring a plug or recreating a certain red carpet make-up look. Tutorials give something back to your audience and give them a reason to like, bookmark and pass along.
Uploading your video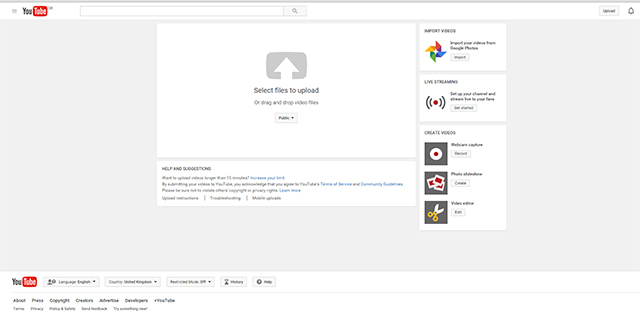 When you are ready to upload your video, the process is easy. Log in, go to your channel and click the upload button. The most important part of this process is writing a captivating description, adding relevant tags so it's easy for your audience to find your content and introducing a clear, enticing title.
The hard work doesn't stop here. Once the video is uploaded you need to get views. Don't be afraid to cross-promote. Post video links periodically on your other social networks, particularly if they are more established and have a bigger following. You can also use your email marketing to push your video content – studies show that simply including the word video in your email subject line can increase click through rates by as much as 65%.