Trace Ronning of Wordwatch gives some valuable advice on how using the free (yes, free) Google AdWords Extensions can help increase clickthroughs and impressions for your PPC campaigns.
As an advertiser, I'm always brainstorming ways to get more impressions for my ads, drive more clicks and of course, bring down my cost per acquisition (CPA). There's no shortage of tools, free and paid, out there to help me find new keywords (Wordtracker can help you find new keywords), write new text ads and even manage my keyword bids.
Google AdWords extensions
Some of the most overlooked tools to increase your CTR by 30% or more are the Google AdWords Extensions. They're all absolutely free to include in your campaigns and allow you extra space for phone numbers, more links, photos and more. When 130 characters aren't enough (that's shorter than a tweet!) you need ad extensions to drive more traffic to your site.

Sitelink extensions
Using sitelink extensions allows you to include up to four landing pages in your ad. You've probably seen organic sitelinks when doing a search, they allow potential customers to easily find the landing page that suits them best in order to do less searching within your website.
AdWords sitelinks work the same way.
They've been shown to increase your clickthrough rate (CTR) by up to 30% and they're great for broad match searches. For instance, if you're running a campaign for an online shoe store, someone could find your ad by simply searching, "Buy shoes online" which is rather vague. With sitelinks, you can link to landing pages for women's shoes, men's shoes, children's shoes and maybe a store locator if you have a physical storefront as well.
Below is an example showing an ad for a pizza store:

There are also expanded sitelinks available now that include up to four links as well as more ad text under each of those links.

Expanded sitelinks will show as long as you have running ads related to each of your sitelinks somewhere in your AdWords account. These are great if you've got at least four ad groups marketing the same product in a different way.
You might have one adgroup that talks about what great value your product is, and another where you emphasize that your product is environmentally friendly. Even though you're targeting different audiences, expanded sitelinks bring each selling point together for one giant ad with all of your selling points.
Seller rating extensions
You can implement seller rating extensions if your store is rated in Google Product Search at at least 4 stars or higher, with 30+ reviews. These extensions actually automatically appear if you meet the qualifications, although you can manage them if you'd prefer they don't appear with your ads. Of course, since they only appear if you've been rated as a top-seller, it's unlikely that you'd want your rating to be hidden.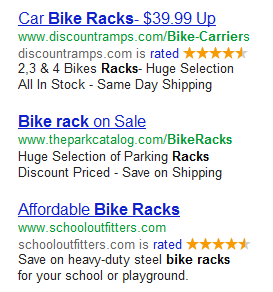 The point of this extension is to draw more customers to your store and create a feeling of trust, whether you've shopped there or not, because fellow customers have had a great experience with your store.
Ads with seller ratings attached to them have proven to have a 17% higher CTR than those without. So if you're confident that customers are happy with your product, consider asking for reviews and ratings to receive those extra clicks from future buyers.
As a bonus, if the searcher clicks on your rating to read the reviews of your product, you are charged nothing as an advertiser.
Product extensions
We're a visually stimulated world, so it should come as no surprise that seeing pictures of what you're interested in buying makes you much more likely to make that purchase.
Ads with product extensions have proven to have their CTR improved by an average of 11%, though I've seen some advertisers increase their CTR by 28% by implementing this extension.

Product extensions look like the above when found in a search, but once a searcher opens the extension by clicking the + sign, it looks like this: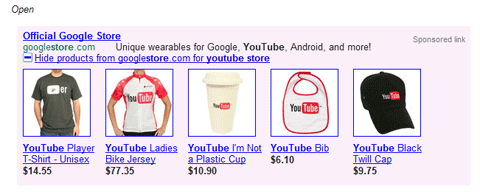 Now we can see the prices and pictures of five products available on the Google store.
To enable product extensions, you must link your AdWords account with a Google merchant account. Once it's been hooked up, Google will display products related to the search query underneath your regular text ad in the fashion of the above example.
Product extensions will only appear for first place ads but they're worth setting up to get that extra free real estate to showcase your items to potential buyers.
Location extensions
Location extensions allow you to provide more information about your business to searchers, which comes in extremely handy when you have a physical storefront.
When location extensions are turned on, you get your full address, phone number, and a link that will create directions to that destination with Google maps. In addition, you'll get a pin on a Google map that will appear next to your advertisement.

There are more than a few great things about location extensions, one of them being that you get your phone number listed at no extra charge. This means that potential buyers might just give your store a call instead of clicking on your ad, saving you money.
Sure, it won't be reflected in your CTR, but if it turns into a sale I'm sure you won't mind. Knowing how close your store is to a customer is great as well, because most mobile searches are location-based. If you can show someone how close you are to their current location, it makes it more worthwhile for them to stop and check out your storefront.
To use location extensions, you can manually enter your location on the extensions tab when setting it up in AdWords, but if you already have a Google Places page set up, Google will be able to automatically pull that information for you.
If you're considering using this function, you should have a Places page with some information about your establishment on it so that people feel more comfortable visiting, and more importantly, spending money in your store.
Call extensions
Like the rest of the extensions, call extensions give you some extra (and free) real estate to utilize with your text ads.
If you've ever used your small allotment of characters to include a phone number instead of a selling point of your product, you'll definitely want to check out this extension. Depending on what devices you're targeting, call extensions work differently, so I'll start with mobile targeted campaigns.
You can either set up an extension with your business phone number or set up a Google forwarding number to run along with your ad.
Your number will be clickable on high-end mobile devices and will result in a call to your business. You pay for the call instead of the click, at the same cost per click (CPC).
There is an advantage to setting up a Google forwarding number because you get more in-depth reporting and tracking when you set it up this way. The reporting you get when setting up a forwarding number includes the following metrics:
The call type – manually dialed or clicked
The start and end time of each call as well as the date
Call duration
Call status
Caller area code
Campaign and ad group the call came from
The main difference between a mobile and desktop/tablet call extension is that the searcher can't click on your phone number on the latter devices.
To use the call extension on a desktop campaign, you must have a Google forwarding number set up so that Google can track (and charge you for) your incoming calls. Each call costs a minimum of $1 (and goes as high as your CPC) for numbers set up this way and you get the same reporting you would as with a mobile call extension.
Call extensions can be great when you'd rather just have someone call your business for more information or if you're a restaurant and want to easily get reservations. If your standard CPC is less than $1 it might be more than you're willing to pay, though.
Worth trying?
Like I said before, all ad extensions are free to implement into your campaign, and I'm sure that every advertiser can find a good use for at least one of them so they're definitely worth trying out. And I've never met an advertiser who wasn't willing to try to lower his CPA and boost his CTR. Try out these extensions today and get better results with your AdWords campaigns.
Get a free 7-day trial
A subscription to Wordtracker's premium Keywords tool will help you to:
Generate thousands of relevant keywords to improve your organic and PPC search campaigns.
Optimize your website content by using the most popular keywords for your product and services.
Research online markets, find niche opportunities and exploit them before your competitors.
Take a free 7-day trial of Wordtracker's Keywords tool