Our aim is to help you to find the keywords your customers are searching on in your target market, across the world, and also to explore new opportunities and markets for your business. The Wordtracker Keyword tool has data from all countries in the tool.
The Bronze plan includes our top 6 territories Global, US, UK, Australia, Canada, France and Germany. Our Silver and Gold plans include many others.
Where do you find this data?
Just log in to the Keyword tool (if you're not yet a subscriber you can sign up for the 7 day free trial here) then click on Find Keywords at the top of the page.
You'll see a dropdown box where you can select the country you're interested in.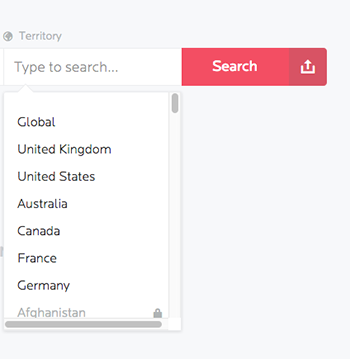 The Bronze plan
provides you with our top 6 territories as well as Global search, giving you access to: Global, US, UK, Australia, Canada, France and Germany.
So, for example, if you have a bicycle business and you're interested in finding out what people in, say Canada, are searching on, you'll be able to see the most popular searches in that territory.
The Silver plan
will give you: Global, US, UK, Australia, Brazil, Canada, France, Germany, India, Indonesia, Italy, Mexico, Spain and Turkey.
The Gold plan
has our full selection of over 200 territories.
Wordtracker and Google datasets
The Keyword Tool contains two datasets - Wordtracker and Google - enabling you to compare the keywords and results returned and helping you make informed decisions about your business. When you're researching your existing market, or new markets, it's a good idea to use more than one datasets as you'll see a broader range of opportunities and be able to verify the results.
Once you've run your first search, you'll be able to select between the datasets:

The Google dataset has 31 territories to search on.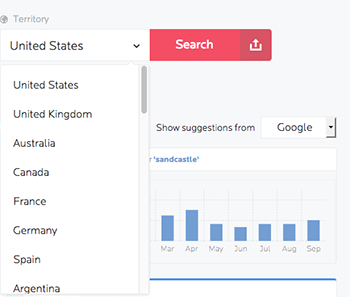 As you investigate international markets for opportunities, you can also delve into the long tail to find further potentially high-performing keywords. It's a great way to explore new markets and see the opportunities for your business.
So, whether you're selling marketing in Mexico, barbeques in Belgium or artwork in Australia, Wordtracker will help you find those high-performing keywords to make your business grow.
Get a free 7-day trial
A subscription to Wordtracker's premium Keywords tool will help you to:
Generate thousands of relevant keywords to improve your organic and PPC search campaigns.
Optimize your website content by using the most popular keywords for your product and services.
Research online markets, find niche opportunities and exploit them before your competitors.
Take a free 7-day trial of Wordtracker's Keywords tool