In this sixth article in the Keyword Basics, Mal Darwen explains how you can use Wordtracker's Keywords tool mapping to help you plan and display a clear website structure that Google will love.
If you're planning or managing Search Engine Optimization (SEO) campaigns you're going to have a list of target keywords. You'll need to build a page for each of your target keywords. And you'll need to organize those pages into a site structure. Here's how to get started with that:
What is a keyword map?
Put at its simplest, a keyword map is a way of organizing the keywords you've decided to target on your site into a framework that you can mirror in your site structure. Some of the map will be drawn from your original ideas, and some of the work will be driven by the keyword research that you do. Research can uncover niches that you may not have considered previously, or even niches you didn't know existed.

Below, we've shown a simplified site structure with three categories and three content pages in each category, though it's likely you'll have more.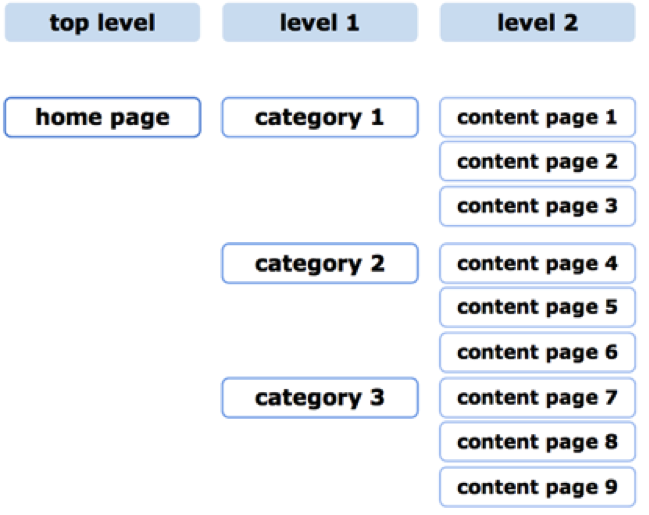 Here's how that site structure might look for a website that sells tea: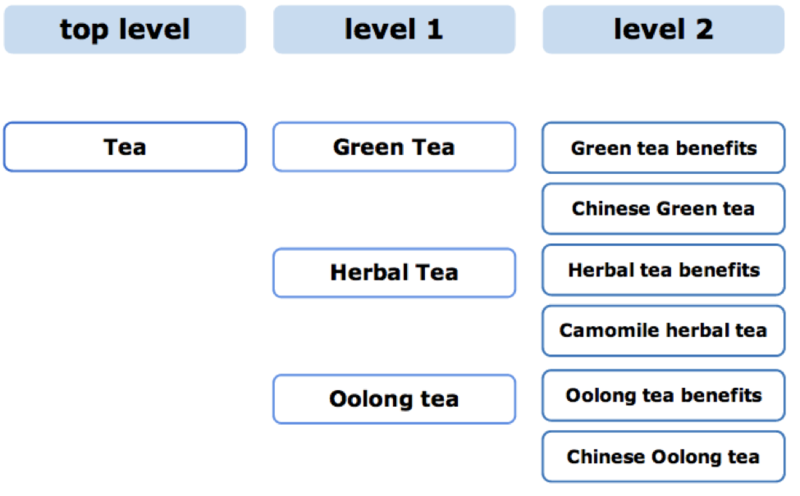 As we can see, there is a clear site structure. On the home page we're targeting the keyword chocolate. On our category pages we're targeting terms such as chocolate gifts, chocolate truffles, and dark chocolate. Just as importantly, our visitors (and the search engine robots) can find a logical path from the home page through the site.
Each individual page should target a primary keyword. It's important to make sure the page is well optimized by having the keywords in the title tag, header and content and we'll try to attract quality links from other sites. This will improve our chances of ranking for our target keywords.
Setting up your website structure
The Keywords tool can help you speed through the process of setting up your website architecture.
In this example, I've got a hypothetical site based around the chocolate market. It's quite competitive, so I want to make sure that along with choosing the right keywords, I've got a clear and understandable structure to work with. Having that structure ensures that both people and search engines can understand and follow clear pathways through your site to the content you want to present.
The first thing to do is to set up a Project - this is very easily done just by creating a relevant list of keywords that you can choose from to optimize your home page. You may have a clear idea of the primary and secondary keywords you want to use for this page, but it's worth looking at the actual data to make sure that your preconceptions aren't getting in the way of your best marketing strategy. I've started with the seed chocolate.
Once you've got a list on the page, just use the 'Save' button, and you'll be invited to name a new Project, and give the list a name.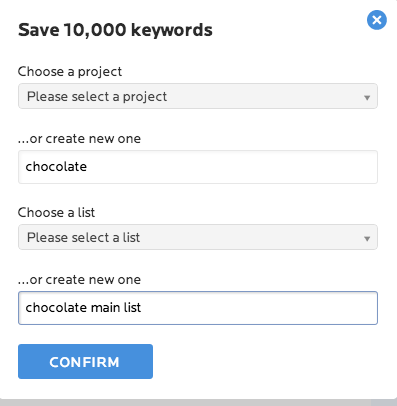 If you've been working with the tool for a little while, you'll notice that you're able to choose from existing projects and lists from the dropdowns.
Name your Project, and give your list a relevant name as well - here I've called my list 'chocolate main list', as my site is going to be dealing in chocolate . This list will more than likely provide the primary and secondary keywords for my home page, as well as giving me an idea of potential other niches which exist and which I can use to optimize other pages (or even categories). It's straightforward enough to build out lists from your existing main list using search and save. At this point, at the top end of the list, it'll be the higher volume keywords that you're looking at, and these can often suggest niches of their own. For example, chocolate truffles is currently presenting itself as an individual keyword, but if I take a closer look, I'll see there's an entire niche there, waiting to be tapped into - and here's how:
- click the downward arrow icon next to the keyword on the search page
- choose 'search and save'
- select the 'chocolate' project
- name the list
- that's it!
If I quickly check at the top of the page, I can see that I have xxx keywords based on chocolate truffles that I can go through to choose keywords for a new page. I might even find that another keyword, eg credit card offers is a large enough niche to be a category on its own.
By going through the main list, I'll find more keywords that I can drill down into, such as chocolate gifts, white chocolate, and so on. I'll build lists from each of those using 'search and save', until I've got a project that looks a little like this:
Once you've got your lists (at this point, ideally you'll be working with one list for each category), you can start going through them to look for individual keywords for your pages. A primary and secondary keyword for each page is ideal.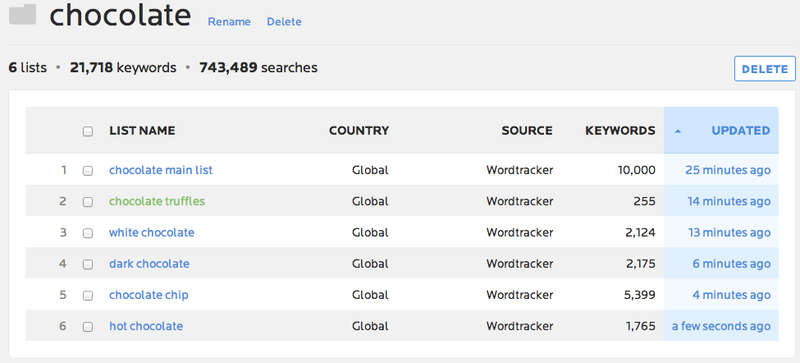 Once you've got your lists (at this point, ideally you'll be working with one list for each category), you can start going through them to look for individual keywords for your pages. A primary and secondary keyword for each page is ideal.
At this point, I'd recommend using a spreadsheet (Excel, or Google Spreadsheets are perfect) to organize your keywords into a hierarchy. This is something you can add to over time, and it serves as a clear record of the work you're doing to optimize your pages. A simple keyword map in a spreadsheet will look something like this: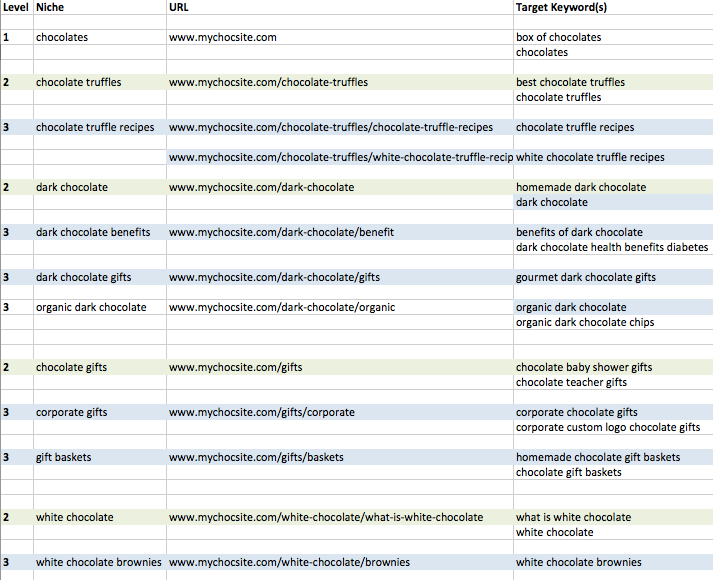 The 'level' column refers to where in your site structure each page is - level 1 would be the home page, level 2 the category pages, and level 3 the content pages. If you're working with a larger site with hundreds of pages or more, it's likely that you'll use level 3 as a sub-category page and level 4 as your content pages - or you may even go deeper.
Keep your keyword map up to date when you make changes to your primary or secondary keywords on the page, and you'll have a clear and current snapshot of where your optimization is going. You can choose to include other information here as well. You might want to record your title and description tags here so that you can quickly check that there's a match between them, or you might want to record the current search volumes and competition figures to enable you to spot potential trends in the keywords you're already using.
Your keyword map is an incredibly useful starting point for a site - and if you have an established site, setting up a keyword map to track what your site's doing can be a crucial part of your SEO management.
Keyword research doesn't stop
Once you've completed your Keyword Maps, identified your targets and exported the data, don't stop. There are always other Niches you could target - have you used the 'Get Related Keywords' search to find them? Do you have the best keywords for all of your pages? You should regularly revisit the work you've done - search volumes change over time, and you want to make sure you're not missing out on new terms.
Keyword Basics
Here are links to the other seven articles in this series:
Keyword Basics Part 1: How search engines work
Keyword Basics Part 2: Finding keywords
Keyword Basics Part 3: Understanding a keyword's structure
Keyword Basics Part 4: Targeting your primary and secondary keywords
Keyword Basics Part 5: How to narrow down your keyword list
Keyword Basics Part 7: Using keyword modifiers
Keyword Basics Part 8: Building keyword rich inbound links
Get a free 7-day trial
A subscription to Wordtracker's premium Keywords tool will help you to:
Generate thousands of relevant keywords to improve your organic and PPC search campaigns.
Optimize your website content by using the most popular keywords for your product and services.
Research online markets, find niche opportunities and exploit them before your competitors.
Take a free 7-day trial of Wordtracker's Keywords tool

Join the discussion
You can keep in contact with us on Google+, find us on Twitter. Facebook and LinkedIn