If you're new to search engine optimization, or SEO, and frankly, even if you aren't, there's a lot to take in, a lot to remember. To make sure your bases are covered, here are ten things to check right now. (Start at the top of your web pages and work down.)
If you are looking for something more advanced check out our SEO technical checklist.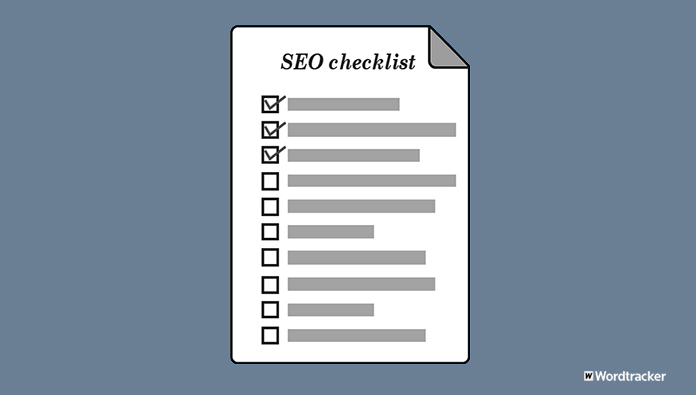 1) The blue text you see in the search results (see the picture further down) is called the 'title tag'. What do yours look like? Are they enticing? Keyword rich? If someone read yours, would you want to click through from the search results to your site?
2) Does your meta description, the bit that comes underneath the title in the search results, describe your web page accurately? Is it inviting? If I was a random user, would I click it? The answer to these questions should always be yes.
3) Are all your URLs (eg, www.example.com or www.example.com/example_page) easy to understand? If a human read them, could they get a sense of what your page was about? Test it now. Pick any page on your website (not your home page), copy what appears in the address bar of your browser and email a relative. An old one. Could they roughly describe your page without seeing it?
4) If someone was to look at your page for three seconds, could they tell you what it's about? Make sure your headers, the headlines in the copy, and the H1 and H2 tags in the code, are descriptive and keyword rich.
5) Is your navigation clear and intuitive? If you asked a stranger to find something on one of your deep-level pages, let's say, find a specific product or article, could they do it just by using their mouse? Great! OK, now test it. Ask a friend to do this now.
6) Are your images optimized? (Right click on an image and 'inspect element' and look at where it says "img alt" - is this an accurate description of the image? Does it even exist? The alt tag is what search engines 'see' when you upload an image. It's also used for site readers for the visually impaired. Ensuring your alt tags are descriptive makes your site more accessible and better for search engines.
7) Does your copy (text) sing? Are the words on your pages inviting, informative and punchy? And do they use the language your customers use, or are they jargonized?
8) Is the copy on every page unique? (It should be.)
9) Does the footer (the bit at the bottom of the web page) offer some more navigation options? Navigation that's keyword rich, and helpful for users (perhaps they have a slow internet connection - could they still get to where they want to go quickly?). If I just looked at the footer of your home page, would I see links to your most important pages?
10) Do you have clean code? (Right click on your web page and click 'view page source' to see the code). Is it free of Javascript and Flash where possible? If you're not a coder and you asked this question of someone who is, what would they say?
Read more in this series
Why SEO? What are the benefits for your site and your pocket?
So what actually is SEO? What is it and why would you want to do it?
How does Google rank your site? Google loves authority and relevance. What are these and how do you get them?
SEO for Beginners How do you go about SEO'ing your site?
---
Get a free 7-day trial
A subscription to Wordtracker's premium Keywords tool will help you to:
Generate thousands of relevant keywords to improve your organic and PPC search campaigns.
Optimize your website content by using the most popular keywords for your product and services.
Research online markets, find niche opportunities and exploit them before your competitors.
Take a free 7-day trial of Wordtracker's Keywords tool